Press Release
Social Influencer is the theme for this year's Laguna Blogging Summit that is on its 3rd year now (#3LaBS).
Presented by Elabram Systems Group, the Telecommunications Manpower Service provider for the biggest players in the industry for 15 years globally and 5 years in the Philippines believes that the way for brand awareness and advocacy dissemination is through Digital Marketing and being Social offline.
On October 3, 2014 at Malayan College, Cabuyao, Laguna between 8am to 5pm. Seven Speakers will share their expertise: Art Samaniego Jr (Manila Bulletin Tech Guru), Boris Joaquin (Saddleback Church), Pocholo De Leon Gonzalez (The Voice Master of the Philippines), Janette Toral (Digital Filipino), Lloyd Luna (The Filipino Motivational Speaker), Grace Bondad Nicolas (Laguna Blogging Summit Founder) and Rod Magaru (Rod Magaru Show).
Different Social Media, Digital Marketing and Influencers Marketing Summits are happening in the metro for years and true to what organizers advocacy till now is still to bring the best speakers who can explain very well the Impact of Digital Marketing and Social Media in our lives to Laguna. The organizers believe that sharing information is the key for awareness thus gave birth to the first Laguna Blogging Summit 3 years ago.
Happy and overwhelmed from the two previous Laguna Blogging Summit with 1000 attendees, the organizers for this 2014 offers a different venue and additional new speakers who will talk about Impact of Social media to Journalism to using Social Media in building a Church in the Philippines. Grace Bondad Nicolas will talk simply about blogging 101 for newbies while the rest about their expertise in Journalism, Branding and Digital Marketing.
Registration Fee: Php 200.00
Emcees: Rod Magaru and Florencio Jusay Jr.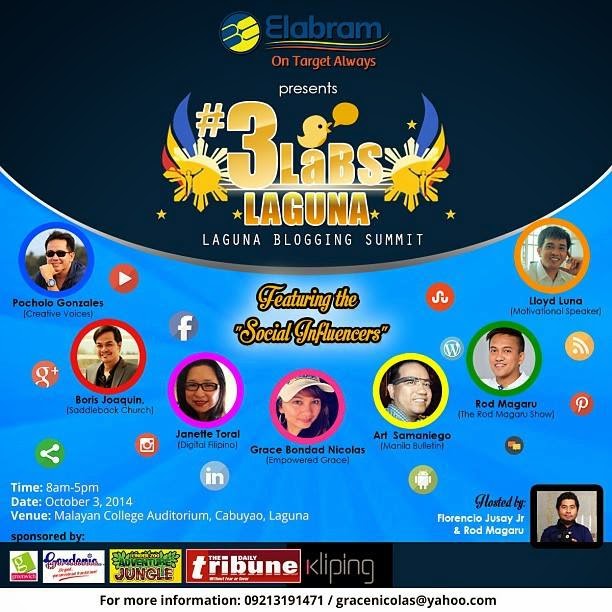 ♥♥♥