Not everyone knows my roller coaster journey to motherhood so here I am,
sharing it to all of you.
The reason is that maybe I can inspire someone thru this long post.
(yes, that is a warning! hehe…)
Year 2005, it was my first time to conceive. yehey, positive, I'm pregnant!
At that time, I was only 25 years old, sabi ng iba, it's the right age daw to be a Mom.
(o ako lang nagsabi non? haha)
After a week of confirming it, I experienced spotting. I was advised to bed rest and undergo ultrasound.
Actually, 3 OB-Gyn ang pinuntahan ko to know the reason ng spotting ko.
Then the 3rd OB told me that the ultra sound shows no heartbeat, gestational sac only,
they called it BLIGHTED OVUM – "

also called an anembryonic pregnancy or anembryonic gestation,
occurs when a gestational sac develops without an embryo – often due to chromosomal abnormalities
in the fertilized egg"
(source)
Because of that I undergo Dilation and curettage or "Raspa".
At that time, I and Ryan were so sad, we are just starting our family pero ganun pa ang nangyari.
We moved on and trust God, knowing that everything happens for a reason.
Year 2006, after a year of trying to conceive, I go back to my OB-gyn and asked her advice,
Kasi hindi pa din ako na-pregnant ulit. She suggested follicle monitoring, I took clomid (fertility pill)
and every other day, i-check thru ultrasound if there is a mature follicle, then i-timing ang intercourse.
We do that for 2 months, but still no baby. #sad
Year 2007, a friend referred me to another OB-Gyn who's forte is infertility.
Dra. Sia-Cu of Manila Doctors. She prescribed Vitamin E and follic acid for me and Ryan,
korek mga friendship, pati si Ryan uminom ng Follic acid, I thought pang girls lang yun. hehe.
She also advised Ryan to see Urologist to have his sperm count check. So we followed all her advise.
Come August 2007, I have mild spotting, I thought menstruation ko na. Then nawala ulit.
So I told Dra. Sia about it. Maybe hormonal imbalance daw. After two weeks, wala pa din si Aunt Flow (code name for red alert :-D),
I took pregnancy test, positive…yipeee…..I'm pregnant again!
We were so happy, ang tagal namin itong hinintay.
We immediately set appointment with Dra. to confirm it. Since too early pa to see it in the ultrasound, and most of the time, pregnancy test is 99% confirm, she prescribed pre-natal vitamins for me.
But the following day, I experienced severe lower back pain, buti na lang malapit lang office ko sa Manila Doctors, I went to ER agad.
My OB advised me to bed rest again. Then ultrasound after a week.
The ultrasound showed no heartbeat, the OB advised to repeat it after a week ulit,
Maybe it's too early pa daw to see the baby.
At that time, we prayed hard. Not again, Lord! 🙁
We also asked the intercession of our families, barkadas and friends from LOJ community.
But sadly, another Blighted ovum.
When we got home, I broke down in tears. Masakit na yung una, mas masakit ang pangalawa.
Parang gumuho ang mundo ko, I blamed myself, I blamed Ryan.
I undergone once again another D & C. That is the saddest day of my life!
Then, we moved on!
2008 and 2009 – This time, because we are really eager to be a parent, we tried different scientific approaches and superstitions to help us conceive. Eating sunflower seeds, acupuncture, putting pillow under my butt while making love – the higher the better,
(I know right..hehe), drinking herbal supplements etc.
Through it all, we also stormed heavens with lots of Novena prayers – Black Nazarene in Quiapo, intercession of Blessed John Paul the Second, we also went to Obando to pray for fertility.
Come 2009, another missed period. Yes, it's positive once again. Maybe because of my past experiences, di na ako masyadong excited.
What I feel is fear. Two miscarriages were not a joke.
However, maybe it's not yet the right time, that's what I always believe.
And yes, another blighted ovum. This time, immune na ako sa pain.
I just prayed hard that I will be able to accept the reality.
The difference with my 3rd pregnancy is that hindi na ako ni-"raspa", meaning no operations done.
It came out naturally. Hindi pa din ako pinabayaan ni Lord. 😀
2010 to 2012 – we let go and let God fulfill His promise. Deep in my heart, I always believe that He has purpose why things happened.
We have faith in Him. We took rest from any scientific approaches and medical consultation.
And continue serving Him through attending Feast – our weekly prayer gathering.
The dream of having a child is always written in our Novena to God's love prayer booklet.
I'm still on denial but of course I need to confirm it. We made appointment in a clinic near my office. The OB-GYN then referred me to her colleague whose forte is High risk pregnancy that is because of my three previous miscarriages. She is Dra. Mariane Dichoso of La Salle Medical Center in Dasmarinas, Cavite. We chose doctor and hospital in Cavite area so malapit lang sa house namin.
When we met her, she gave me "pampakapit", but after a week, I experienced again mild spotting.
At that time, we are in Mandaluyong, we attended a friend's wedding. I told Ryan what happened and we immediately go to the nearest clinic with ultrasound.
Before the Sonologist check me, I whispered a short prayer, telling God that it's all up to Him, that everything will be alright because I trust Him.
True enough, the Sonologist told me that there is a heartbeat already, that's the first time I heard the good news, I don't know how to react. Fear, happiness, fear, excitement…oh my!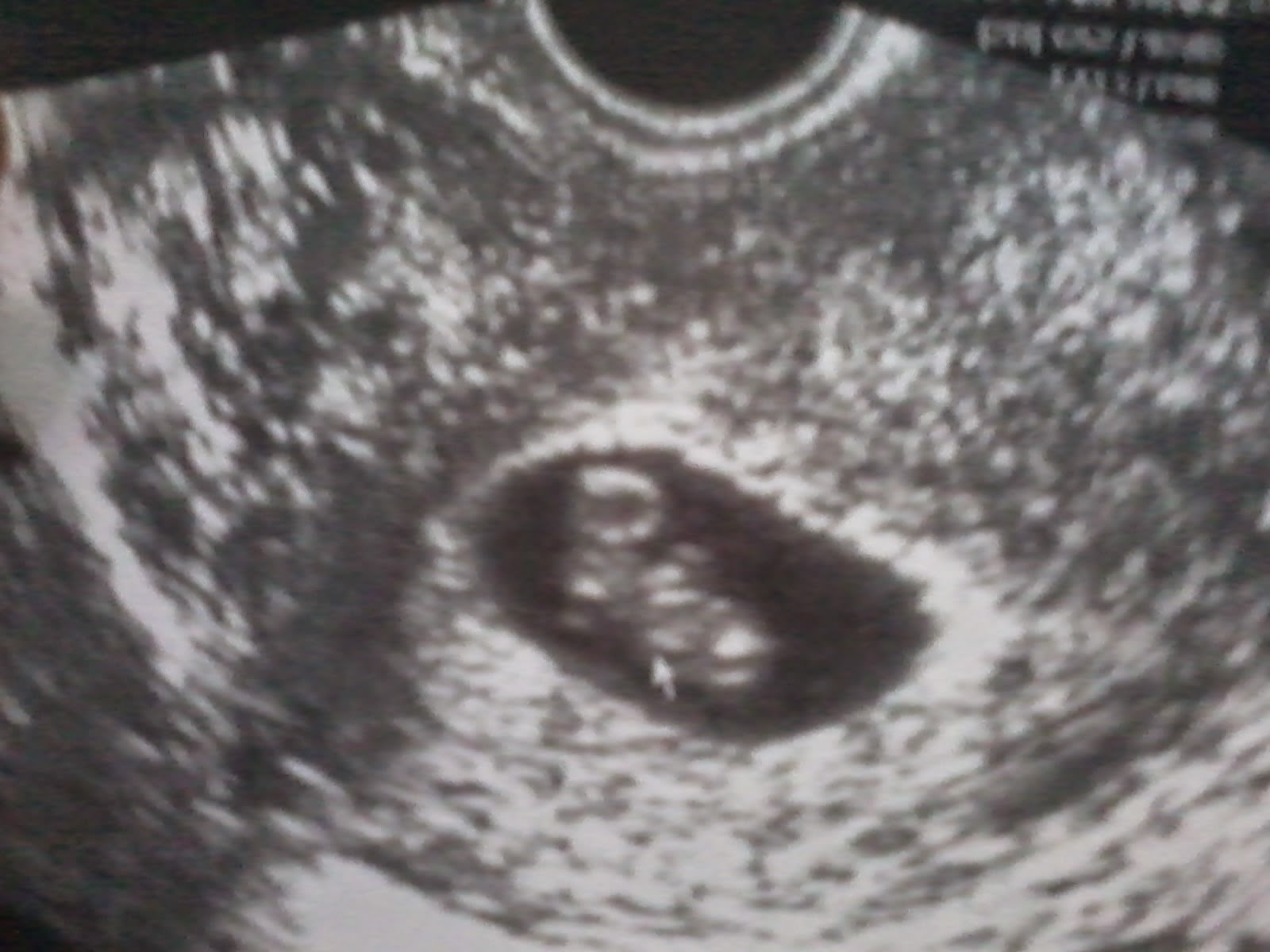 my baby at 7 weeks 😀
As per the ultrasound result, I'm having mild spotting because of internal bleeding.
And because we are in Mandaluyong, a trip going back to Cavite is not advisable. Thank God for our very supportive friend, Joel, we stayed at their house overnight. Good thing our Ninang Luz (Joel's mother) is going to Dasmarinas, Cavite the next day, hinatid na nila kami sa La Salle medical Center.
God is so good, He sent good people along the way!
My OB advise me to bed rest for 2 weeks, several blood tests were also done in order to check what causes my previous miscarriages. The result showed that I have APAS or Antiphospholipid Antibody Syndrome. Until now, hindi ko pa din ma-explain sa mga friends ko ang meaning ng APAS in layman's term. What I understand is that it is related to formation of blood clots, that my immune system was trying to terminate the pregnancy, hence my repeated miscarriages. Because of APAS, I have another doctor who specializes in Immunology and because of that I had to take several medicines to ensure my baby's health.
When everything is back to normal, I also went back to work. Nakapag bakasyon pa nga kami before my birthday. hehe…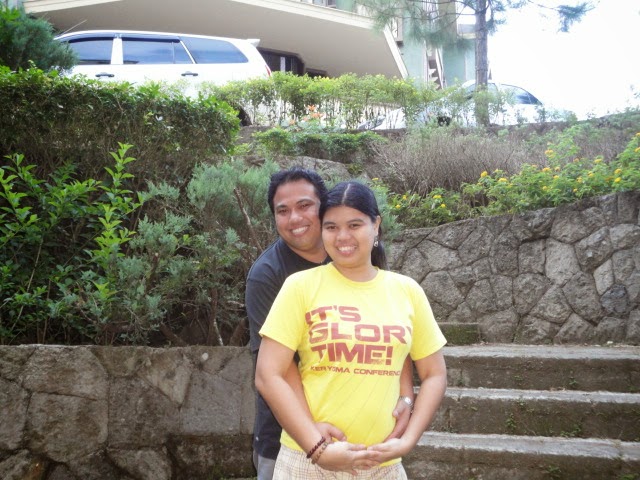 At Crosswind Tagaytay, I was 4 months pregnant here…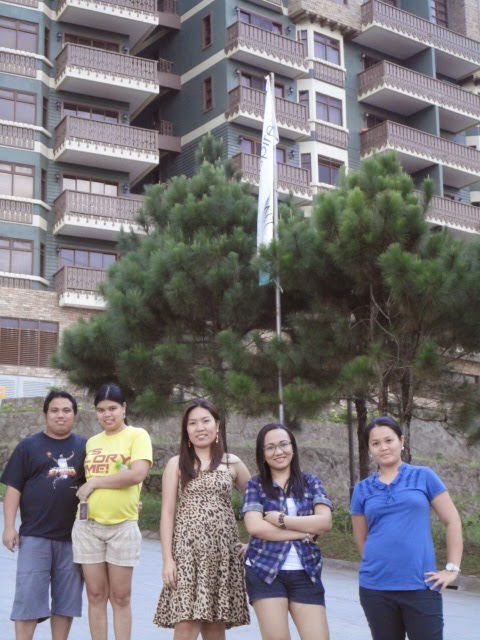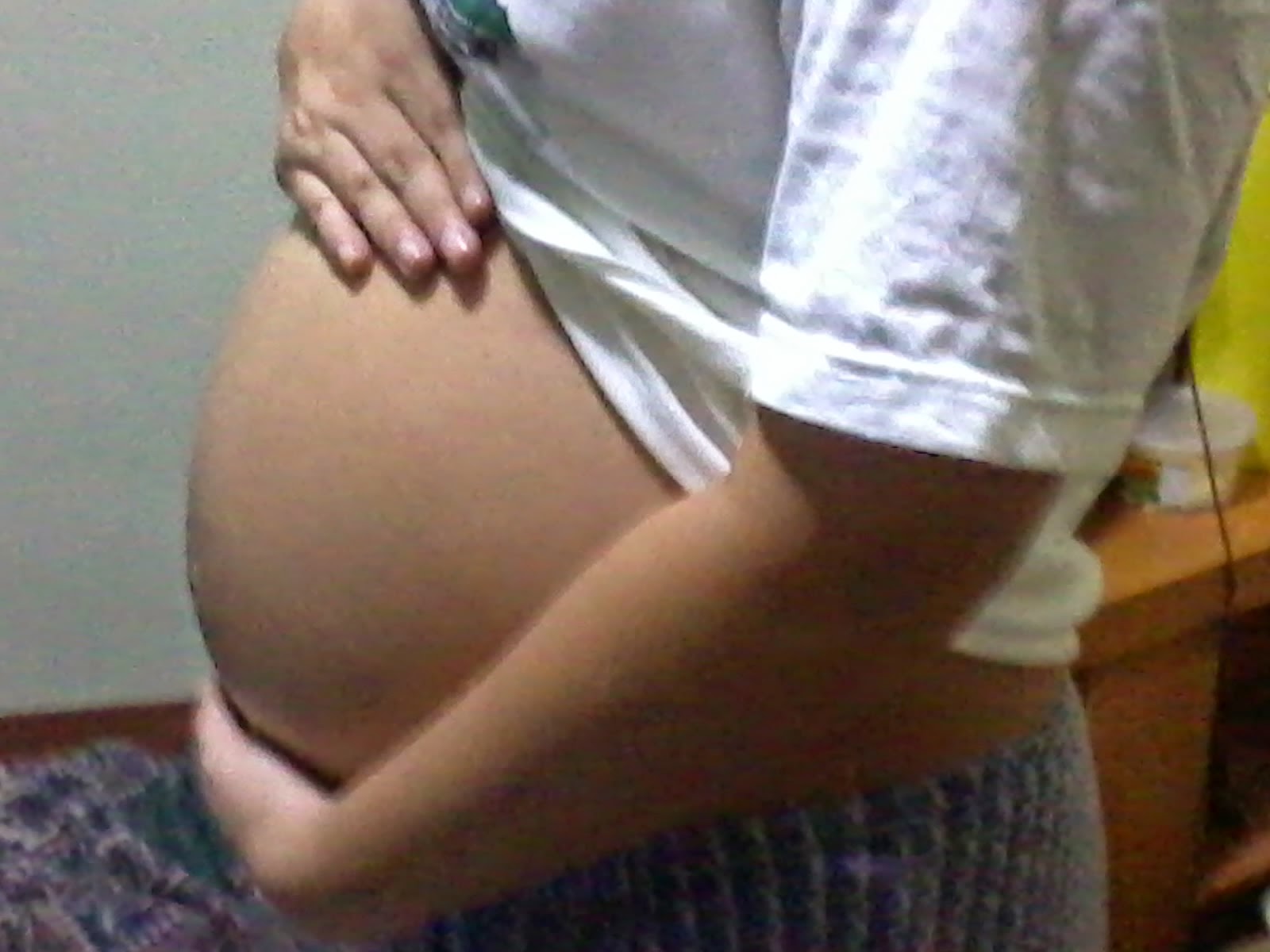 my baby bump at 28th weeks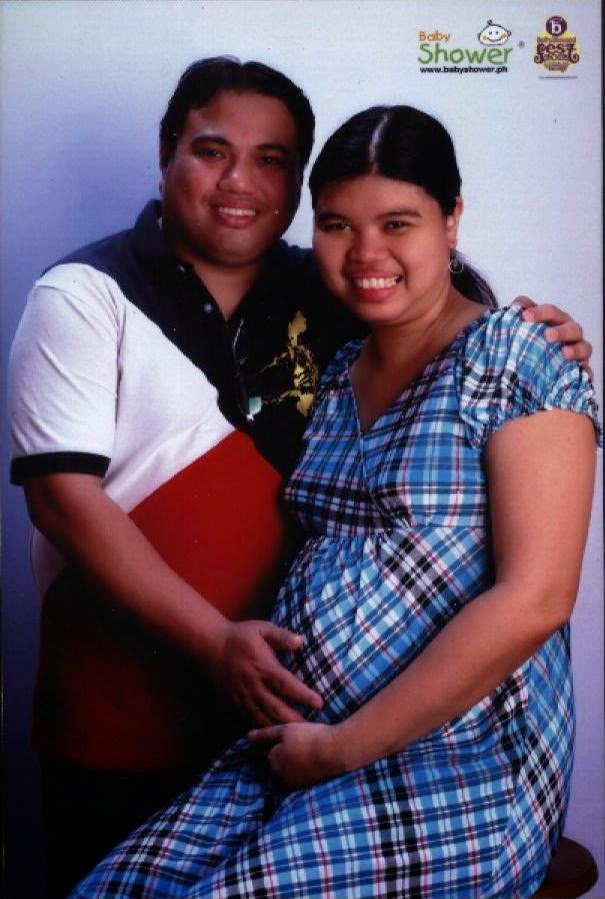 But when I reached my 28th weeks, my amniotic fluid suddenly dropped to a dangerous level, I was hospitalized for 1 week to be hydrated. Then, my OB advised me not to go back to work, complete bed rest this time. My immunologist instructed me to take aspirin and inject Heparin every 12 hours.
Yes mga friendship, ako ang nagtuturok sa tiyan ko, at first takot ako, pero nasanay na rin. I had to do that for almost two months.
From that time, my check-up was weekly na, same with ultrasound. Imagine how much money we need for my check up, medicines and ultrasound, it was so hard. But God did not abandoned us. He blessed us unexpectedly thru our relatives, my husband's work incentives and others.
Come D-Day, we (my OB, me and Ryan) agreed that I will give birth on October 30. Since I have APAS, I am not allowed to give birth via normal delivery, buti na yung siguradong okay kami ni baby di ba, kahit medyo expensive pa ang Caesarian section.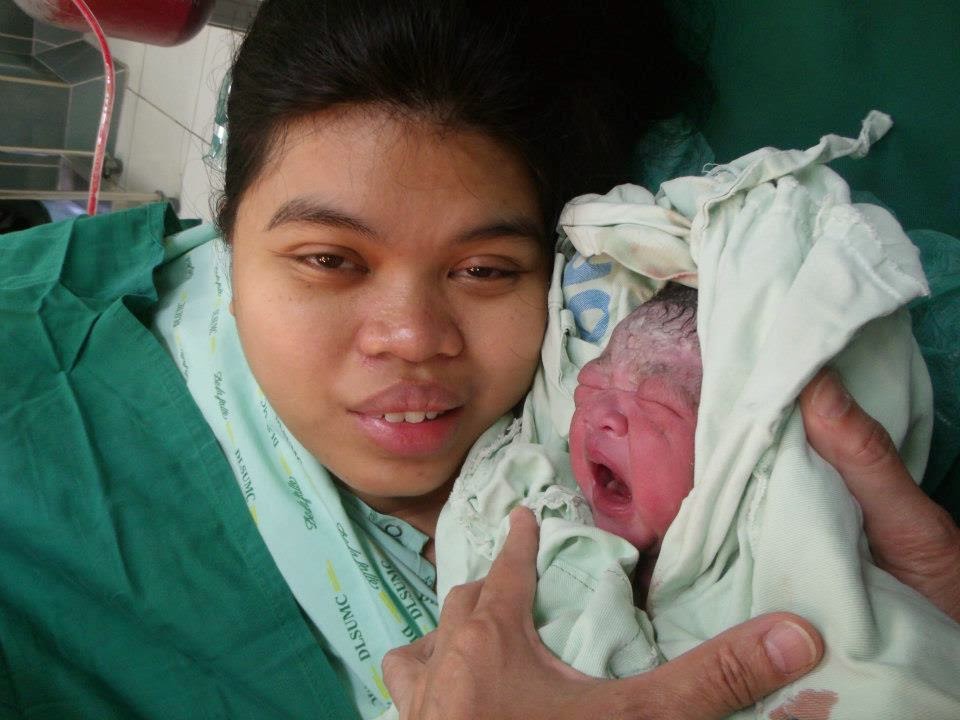 sorry for my groggy look, I was high with anesthesia..hihi…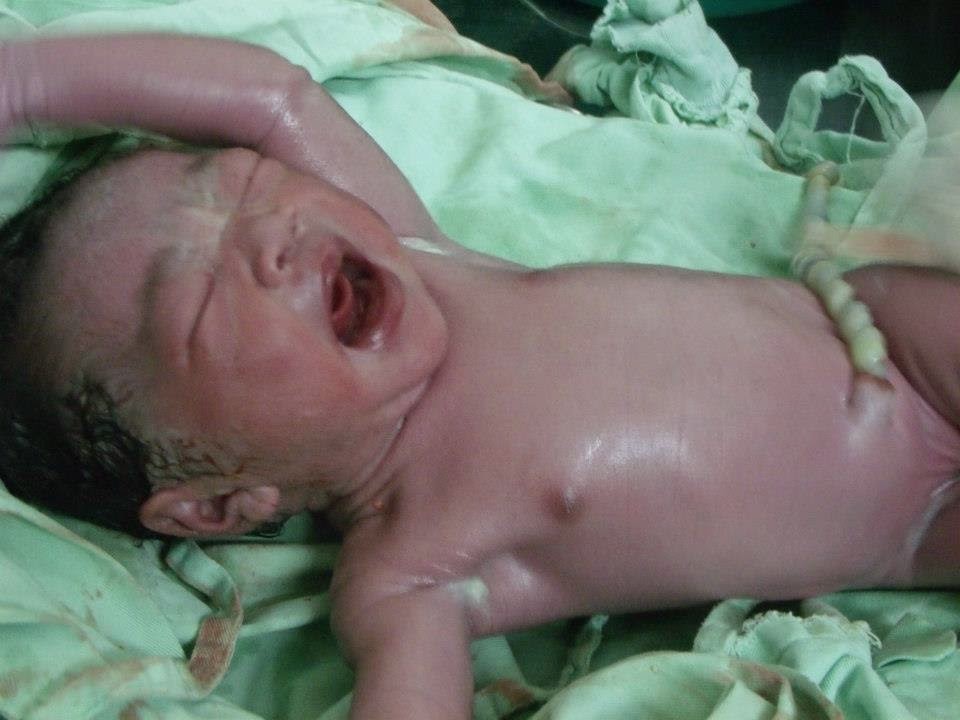 October 30, 2012 at 7:30am
meet Rylee, my pretty daughter!
Then the rest is history! Our daughter now is very active, with unlimited kakulitan,she is now entering terrible two's phase, hehe..
Good luck to us! lol..
And let me explain the meaning of our baby's name:
Janina – means "Gift from God", she is indeed the best gift that we have ever received in our life.
Rylee – combination of our name, Ryan and Lally but with different spelling.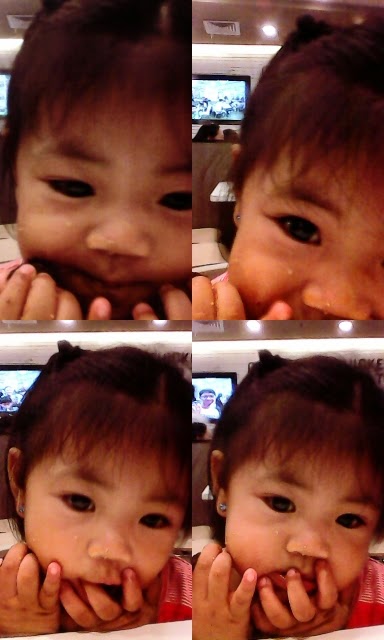 she loves to Selfie! 😀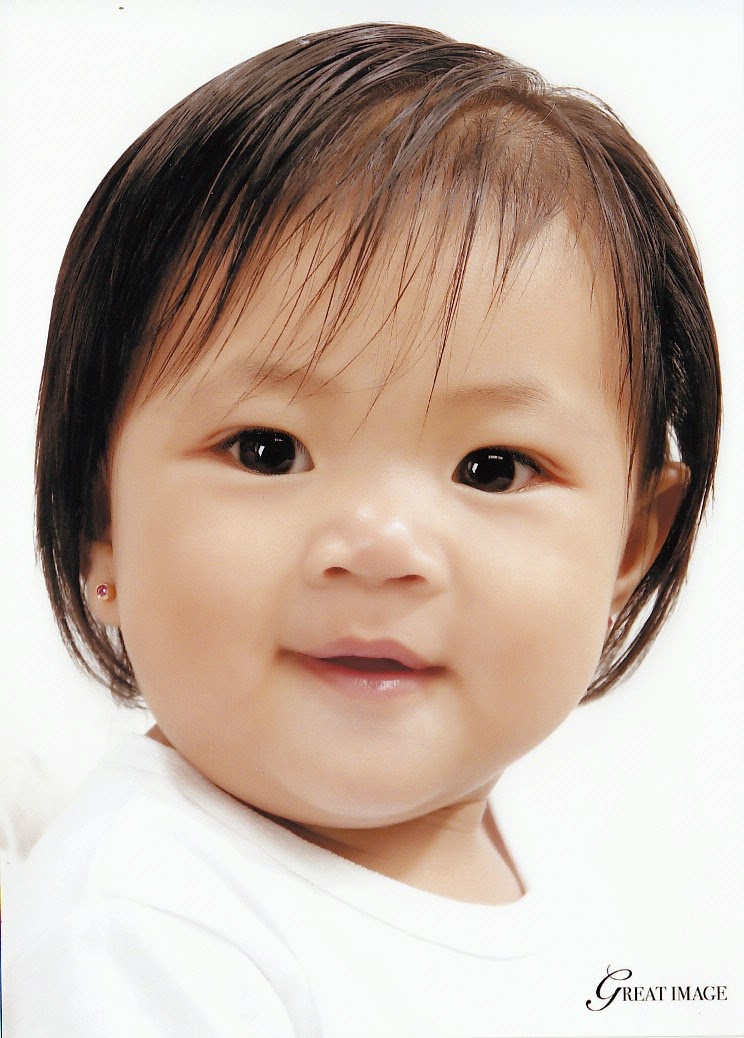 Rylee at 6 months, super cute!
#ilovemyown
Thanks everyone for reading and I hope I became an inspiration in my own little way.
I would like to say it was an easy journey, but it was not.
Prayer + Faith + Hope = Miracle, that is the formula I believed in.
Just keep holding on to your dreams because dreams do come true!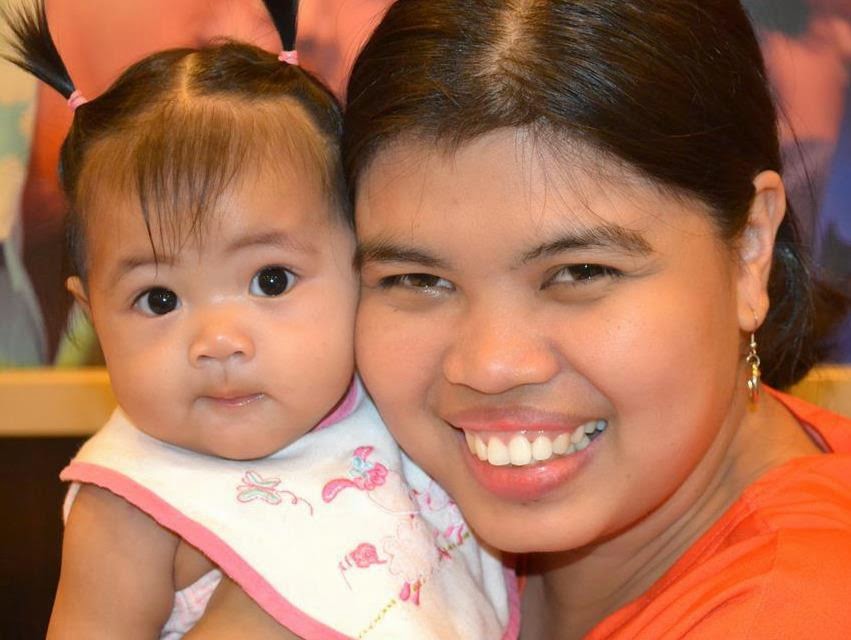 Amidst the pain in the past,
you can see in my eyes,
the happiness in my heart
because I am a Mommy now! ♥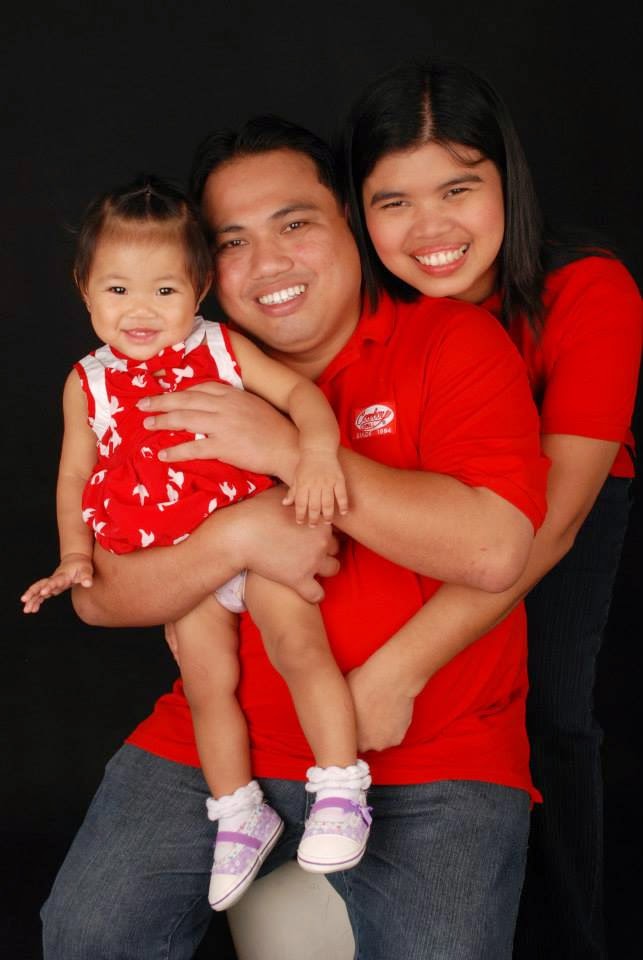 Ryan, Lally and Rylee!
We are now a family!
Thank you Lord!
"Indeed, God in His goodness, makes miracles happen even in these modern time.
"TO GOD BE THE GLORY!"