As a Mom, I always make sure that the food we (especially for my daughter) take should be healthy and delicious. This is why, I collected easy to cook recipes so if our helper is in day-off, I will be the one to cook for my family.
So if you want to keep healthy this year start with your cooking oil! I'm so happy I discovered Jolly Heart Mate Canola Oil. From then on, I am using it in cooking our "ulam".
Jolly Heart Mate Canola Oil, Better for the Heart, Better for the Budget, is the heart-healthy, versatile, and value for money cooking oil. Canola Oil is one of the healthiest cooking oils because of its LOW saturated fat (BAD FAT) and high monounsaturated fat (GOOD FAT) content.
Jolly Canola Oil has omega 3 and 6 which are good for the heart. It has
a pale golden color, light texture, and neutral taste so you can use it for any dish. Jolly Canola Oil also has a high smoking point which makes it ideal for frying.
Hosted by Donita Rose, GMA 7's Basta Everyday Happy, recently showcased heart-healthy recipes using Jolly Heart Mate Canola Oil through the month of December. Eight episodes featured Filipino-favorites such as Beef Stew, Crispy Calamari, and one of Donita's personal favorites "in the whole wide world" as she shares on Instagram, Crispy Binagoongan. She tells of her Beef Kaldereta version "
Pinoy ang lasa pero mas bongga! This is my Better Beefier Caldereta made healthier with Jolly Heart Mate Canola Oil!"
.
Donita Rose shares heart-healthy recipes in Basta Everyday Happy
using Jolly Heart Mate Canola Oil.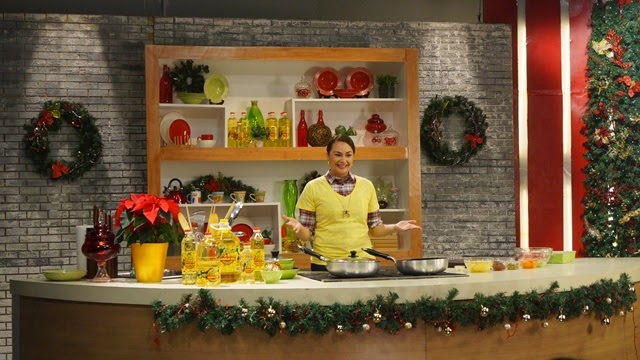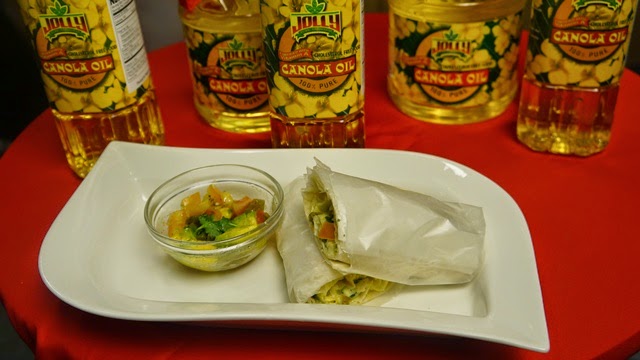 Healthy Burrito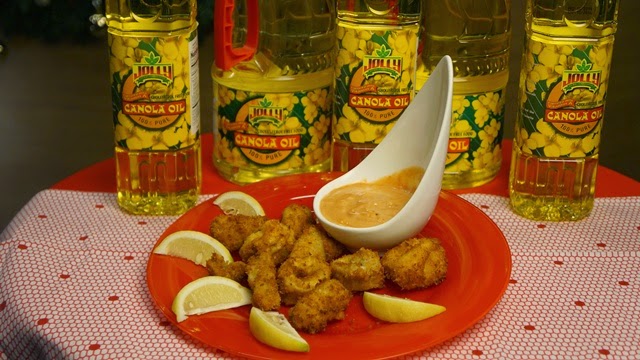 Crispy Calamari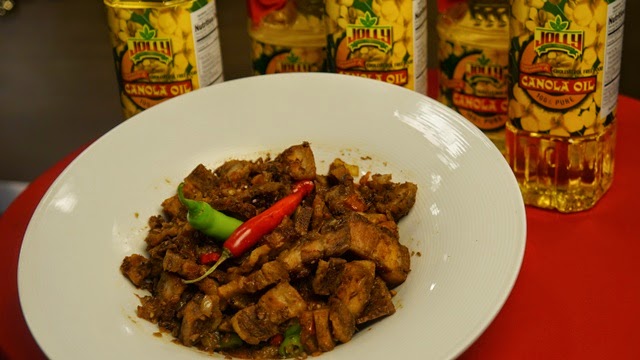 Other healthy everyday recipes included Wholesome Chicken, Paella, and this Heart-Healthy Salmon recipe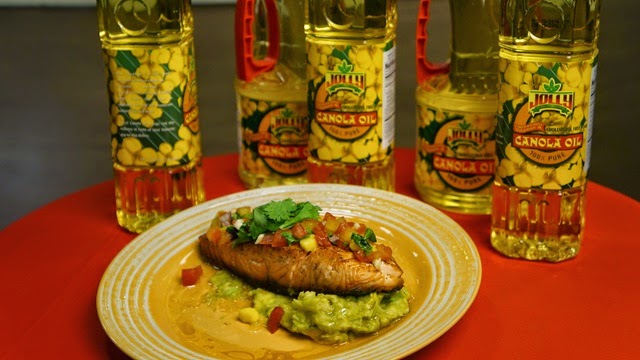 INGREDIENTS:
2 center-cut salmon fillets (6 oz. each)
1 1/2 Tbsp fresh lemon juice
¼ cup finely chopped cilanto
Freshly ground black pepper, to taste
2 tablespoons chopped fresh cilantro
1 tablespoon fresh lime juice, or to taste
1. Place the salmon fillets in a shallow bowl. Toss well with lemon juice, cilantro, Jolly Canola oil, and pepper. Let rest for 15 minutes.
2. Cook the salmon, skinside down in a nonstick skillet over medium-high heat for 2 to 3 minutes, shaking the pan and carefully lifting the salmon with a spatula to loosen it from the pan.
3. Reduce the heat to medium. Cover the pan and cook until the salmon is cooked through, 3 to 4 minutes more. The skin should be crisp and the flesh medium rare.
4. To make the salsa: Finely chop onion and mince garlic. In a bowl toss onion and garlic with cilantro.
5. Chop tomatoes and mango, add to onion mixture, tossing to combine.
6. Peel and pit avocados and cut into 3/4-inch pieces. Add avocados, lime juice, and pepper to taste. Spoon over cooked salmon.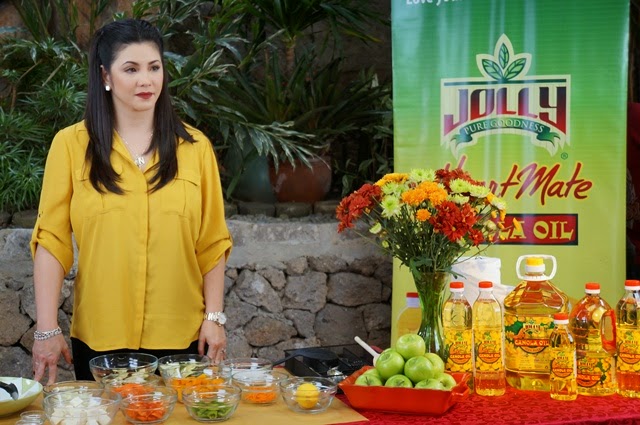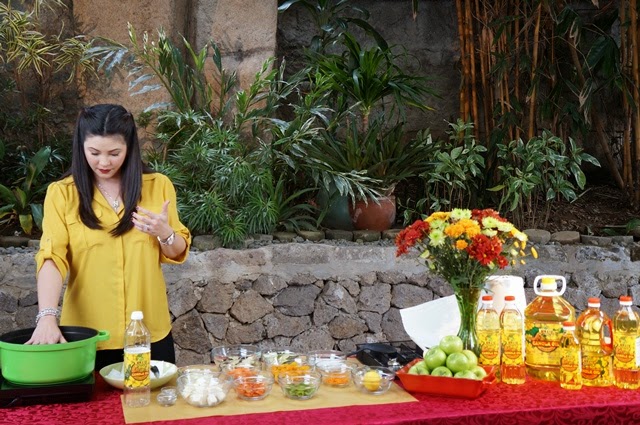 Also catch Sarap Diva with Regine Velasquez-Alcasid on January 24 and 31 at 9:40 a.m. to 10:25 a.m. as she dishes out two, exciting dishes: Pamplina, a Spanish-influenced soup dish, and tasty Pork Steak with Mushroom Bits.
1 kg pork steak, cut into small cubes
1/2 cup soy sauce
salt and pepper to taste
1 tbsp ground paprika
2 tbsps Jolly Canola Oil
2-3 tbsps chopped garlic
2 cans Jolly Button Mushroom Whole, cut in half
1/2 cup red wine
2 tbsps butter
garnish with some toasted garlic and chopped parsley
1.
Season pork steak in soy sauce, salt and pepper, set aside.
2.
Preheat a pan with some Jolly Canola Oil and
cook
the pork cubes until slightly brown in color.
3.
Remove from pan. Toss in the chopped garlic and Jolly Button Mushrooms. Saute then season with some salt, pepper and ground paprika.
4.
Deglaze with the red wine then simmer until sauce is slightly thick.
5.
Mix in the cooked pork and cold butter.
6.
Transfer to a plate then garnish with some toasted garlic and chopped parsley.
Now that everyone is trying to get back in shape after the holidays, the easiest way to start is to be mindful of how daily dishes are prepared. Start the year right by using Heart Mate Jolly Canola Oil that's "Better for the Heart, and Better for the Budget!"
Jolly Heart Mate Canola Oil is exclusively distributed by Fly Ace Corporation. It is available in all major supermarkets nationwide. Learn more about Jolly Heart Mate Canola Oil at
www.flyacecorp.com.
Fly Ace Corporation is one of the leading
food and beverage consumer goods
companies in the country today. Propelling limitless multiple-category growth by bringing the best of the world closer to Filipino homes, Fly Ace Corporation's portfolio of food and beverage products includes house brands and exclusively distributed brands. Learn more at
www.flyacecorp.com
.