We value the delegates of each events we organized. We want you to have a collaboration for future projects or even friendship after the conference or summit under TAG Media and Public Relations. This, actually is part of the objective in attending events. To meet the empowered attendees who came from all parts of the country and beyond and to have a long term partnership after. We love to share and help individuals and companies to gain more knowledge from the speakers and to gain friends after the event.

For "Asia E Commerce Expo 2015," we will have a "Speed Networking" so that delegates will have a chance to meet all. We will endorse you to your target clients, future partners or maybe future friends, we never know. We will release the complete list of attendees 3 weeks before the November 25, 2015 event to those who have confirmed registration and let us know what company you like to be introduced. For 1 Hour, we allot time for you to meet everyone or your target attendees, just advise us in advance.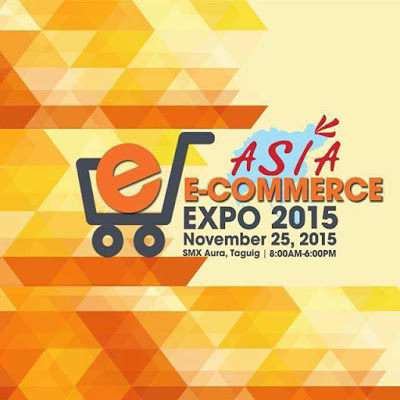 Asia E- Commerce Expo 2015 (#AECoE) will be at SMX Aura, Taguig on
November 25, 2015, Wednesday and brought to you by TAG Media and Public
Relations. #AECoE will give you a unique opportunity to learn from, and
network with senior leaders from the biggest brands in Asia Pacific
region and in which the leading e-commerce experts from emerging
markets, award winning e-commerce players and established e-retailers in
APAC gather under one roof. Industry leaders will share independent
experiences and insights for delegates from different countries. You can
be a part of this inspiring environment and benefit from the excellent
networking opportunities it offers.
It features:
• Sessions on ePayments, eLogistics and ePrivacy
• Over 15 local and international high level speakers
• 1 hour of Speed Networking
What will you learn:
• Market Analysis and Digital Marketing
• E Commerce and Going Global
Why you should attend:
• Maximizing cross border e commerce
Speakers and Attendees will be coming from various industries. #AECoE is
not just about learning but a potential future collaboration that's why
we allot time for networking.
Speakers confirmed are as follows plus 10
more awaiting for their confirmation;
• Constantin Robertz- Managing Director, Zalora
• Lars Jeppesen- CEO, Tech One Global
• Jacqueline Van Den Ende- Managing Director, Lamudi
• Kristian Melquiades- General Manager, Viber
• Janette Toral- Founder, Digital Club Filipino
• Subir Lohani- Managing Director, Carmudi
• Chinkee Tan- Book Author and Radio Host
• Robert Yupangco- CEO, Yupangco Group of Companies
• Frederic Levy- Founder & CEO, CashCashPinoy

Moderators;
• Pocholo Gonzales- CEO, Creativoices Production
• Chris Kiklas- President, EmLogis
• Bjorn Martinoff- CEO, Fortune 100 Coach

Asia E Commerce Expo 2015 (#AECoE) is expecting 300 visitors & up to 30 companies to share their products and services in the expo. For partnership/sponsorship, please contact the organizer at 09166299381 or at [email protected]

Registration Fee per delegate: Php 3,000.00 (Inclusion: Snacks and Elegant Lunch, Conference and Expo. Early Bird Rate Php 2,500.00 till August 31, 2015.

3 easy steps to register and to sponsor;
1. Deposit the registration fee to "TAG Media and Public Relations BPI Checking Account # 1680 0010 29."
2. Scan the deposit slip
3. Send the scanned copy to [email protected]
See you there!