In the eyes of children, their fathers are their first superheroes. This Father's Day, Jollibee showcases this powerful truth in "Powers", the latest addition to their hit Kwentong Jollibee series.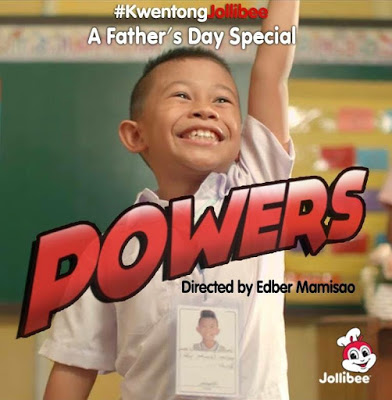 "We look-up to our fathers as superheroes because – though it may be unknown to them – they display amazing prowess and strength as they go about fulfilling their duties to their family," said Francis Flores, Jollibee Global Brand Chief Marketing Officer and PH Marketing Head.
"In 'Powers', we teamed up again with our creative agency McCann Worldgroup Philippines in showcasing this super characteristic in a playful, creative manner by taking on a child's perspective wherein dads are regarded as real-life superheroes. Our latest short film is our special tribute to all the fathers who take care and provide for their families to the best of their abilities," shared Jollibee Brand Communications and PR Director Arline Adeva.
Directed by Filipino-Canadian filmmaker, Edber Mamisao, "Powers" tells the story of a young boy named Angelo who is mighty proud of his Dad whom we openly regard as his "Superhero'. In true Kwentong Jollibee fashion, the story takes an unexpected turn as it reveals the humble occupation of Angelo's father that didn't affect at all Angelo's love, admiration and respect for him.
Mamisao's video treatment also greatly contributed to the playful and fun superhero vibe of "Powers". With an epic music score and cinematography treatment as seen in some of today's trending superhero blockbuster movies plus clever and imaginative execution, "Powers" displays a fun yet equally heart-tugging side of the much-loved Kwentong Jollibee videos.
"Powers" simply, efficiently reminds us of the extraordinary love every father or father figure have for their children, making any son and daughter appreciate them as their number one real-life superhero. This Father's Day, let "Powers" help us tap into our own super capabilities of giving thanks to the big man, our ultimate idol, our very own tatay.
About Kwentong Jollibee
The Kwentong Jollibee, launched in 2016, is a series of online videos about the story of the Filipino, highlighting life's challenges, victories and joys-and their own unique love story with Jollibee. For Valentine's 2017, Jollibee released a series of videos all inspired by a true story, featuring various levels of love among individuals, showing us that love does indeed come in all forms, and the joy of love should always be celebrated.