Smart Araneta Coliseum brings the world-renowned ice skating illusion spectacular "Magic On Ice" to Manila for the first time this year.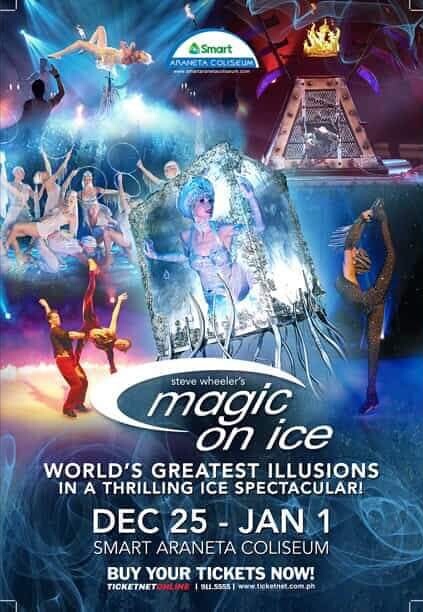 From December 25, 2018 to January 1, 2019, witness an extravagant show that combines the elegance and beauty of ice skating, the world of grand illusions, and the intrigue of magic.
Created by Steve Wheeler, "Magic on Ice" is a new genre of entertainment featuring remarkable production design and breathtaking acts that reviewers have called "unique performances…(and) great fun for the whole family."
The creative team behind this show has worked on some of the best shows in the world, including "Le Rêve," the only Las Vegas show set in an aquatic theater-in-the-round stage in Wynn Las Vegas Casino Resort; Cirque du Soleil's "Mystere" and "O"; the 2006 Winter Olympics Opening Ceremony; and concerts of Prince, Sting, and Madonna.
"Magic on Ice" has already captivated millions of its viewers – young and old – across the US, Europe, the Middle East, and Asia and has entertained audiences in over 200 cities around the world including Las Vegas, New York, Germany, Mexico, Korea and Abu Dhabi.
Make your Christmas merry and white as frozen snow as the Big Dome welcomes the return of an ice extravaganza to its hallowed halls. The iconic venue has, after all, been the home of enthralling ice spectacles from the days of "Holiday On Ice" in the early '60s.
"Magic On Ice" at the Big Dome will be a riveting holiday experience for everybody. Don't settle for something old when you can share an amazing new experience with your family and friends.
For as low as P190 (Gen Ad) to VIP seats at P2,335, get your tickets now via
Call 911-5555 for more information.