For a local food icon, it is time to open the first Filipino Family Restaurant in Northwestern Cebu.
In celebration of her 75th birthday, Erlinda "Nang Linda" Villanueva-Sangre chose to take a bolder move by opening a full-restaurant under her name, with the help of her children. Last July 28th, NANG LINDA'S opened to the public to cater the growing demand forwell-loved comfort food homemade dishes such as: Hamonada, Humba, Balamban Liempo, Manok Bisaya Inasal, Sisig and a lot more.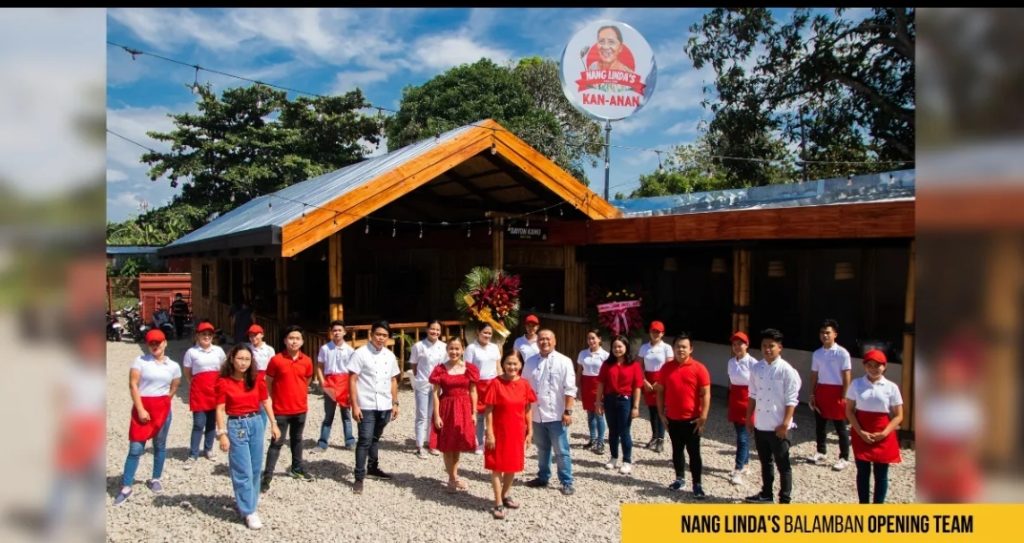 Balamban Mayor Alex Binghay, together with Balamban Vice Mayor Alfie Binghay and property owner Concepcion Yu were the guests of honor of the "Liempo and Inasal Chopping" opening ceremony.
"I am personally attending this because Kumare [Nang] Linda is close to my heart. I can still recall the first carinderia in front of the old Municipal Hall because it was my first term as a Mayor of this town," recalls Mayor Binghay.
Formerly known as "Balamban Chikaan" when it opened in 1988, now re-branded NANG LINDA'S is now a full-blown restaurant brand that offers al-fresco dining experience to its diners. The restaurant also offers TAKE OUT and ONLINEDELIVERY via www.NangLindas.com and www.fb.com/NangLindas
Entrepreneur at 75
Nang Linda is a Balamban, Cebu native. At 12, she became the family breadwinnerafter their parents abandoned them to the care of their relatives. She worked ashouse help to an aunt to be able to continue her studies and at the same timesupport her other two sisters. It is also where Nang Linda first learned how to cookdishes for the whole family.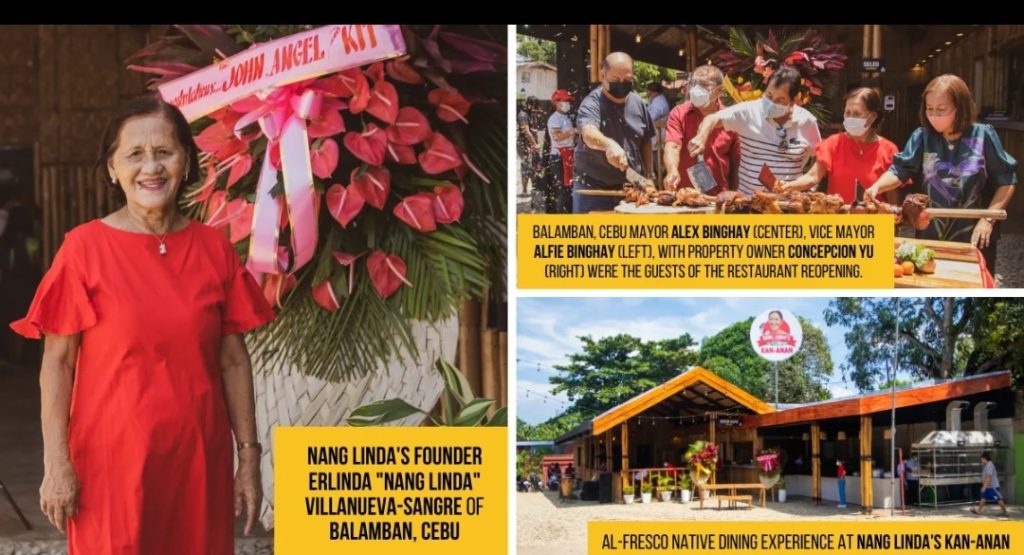 At 18, she fell in love with a young debutant Balambanon, Jacinto Sangre. With afast growing family of 7 children, Jacinto's poultry work can no longer suffice thegrowing needs of the family. Looking for alternatives, Nang Linda started acarenderia beside the old Municipal Hall of Balamban.
But it was not always that way for the then aspiring cook. Nang Linda herself recalls,"I think the informal training I had in appreciating ingredients and actual experiencewith these ingredients had allowed me to understand each of its unique flavors andcharacters," recalls Nang Linda.From every food she tasted and loved, Nang Linda slowly built her own repertoire oflocal Filipino dishes, mastered and perfected in Nang Linda's.
Since then, Nang Linda has been the go-to lady for quality home cooked meals. Her"suki" will always order her Hamonada Espesyal, Balamban Liempo, Manok BisayaInasal, Sisig, Pinakupsan and a lot more.
One of its re-opening guests Concepcion Yu recalls, "Nang Linda has become awell-known name synonymous with good food here in Balamban."
Her carinderia became a must-dine food stall every Balambanon's came to knowabout.
Carinderia to Restaurant
Today, standing proudly along the busy thoroughfare of the National Highway,Pondol, Balamban, Cebu, is a native bungalow alfresco restaurant of Nang Linda's."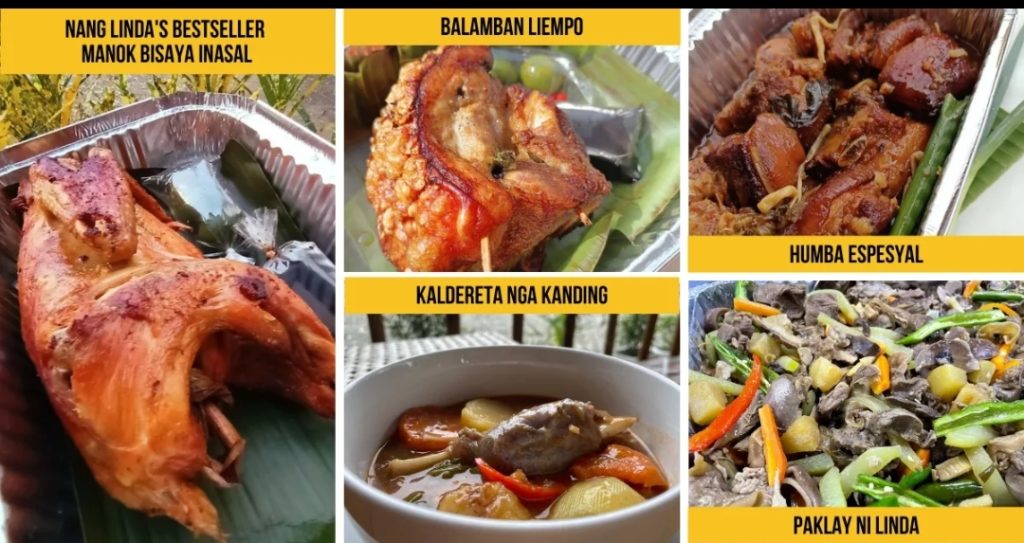 We decided to open a native al-fresco restaurant in tribute to my mother's passionfor good food. It is her legacy to us and the people of Balamban. Nang Linda's hasalready touched so many and different types of people from Balamban. The legacyand passion needs to continue," says Nang Linda's Chief Executive Officer Iren Sangre-Licera.
With Nang Linda's youngest son Chef Jojo Sangre manning the kitchen, NangLinda's completes its full-circle of providing local diners sumptuous dining experiencethat is affordable on the family's pocket.
Nang Linda's Expansion
CEO Iren Sagre-Licera confirms more openings and expansion plans are in order."
We believe in the brand NANG LINDA's stand for. More than food, it emphasizesclose knit family values," adds the CEO.
CEO Licera adds, "Entrepreneurs and investors are contacting us for possiblefranchising and co-ownership opportunities. And we are already opening our doorsto that."Interested in any Franchising or Co-Ownership Program, you may contact www.NangLindas.com/own-one.