It was 20 years ago when Pope John Paul II visited our country. 15 years old pa lang ako nun mga friendship. At that time, I'm not a Catholic yet. Yes you read it right. I converted into Catholic when I was 23 years old. #nowyouknow
Even though I'm not Catholic back then, I remembered I felt goosebumps, something that I could not explain, when I saw Pope John Paul II even on television. When I became Catholic, I asked the intercession of Pope John Paul II (he is now a Saint), for giving us a baby. I believed that he helped us na magkatotoo ang prayer namin.
Then Pope Francis came. He became my favorite Pope (next to St. John Paul II), because he is known as the People's Pope. Maka-masa, maka-mahirap, magaling na leader ng simbahan.
That is why kami ay kasama ng milyong-milyong tao na pumunta sa Luneta last January 18, to hear his Concluding mass.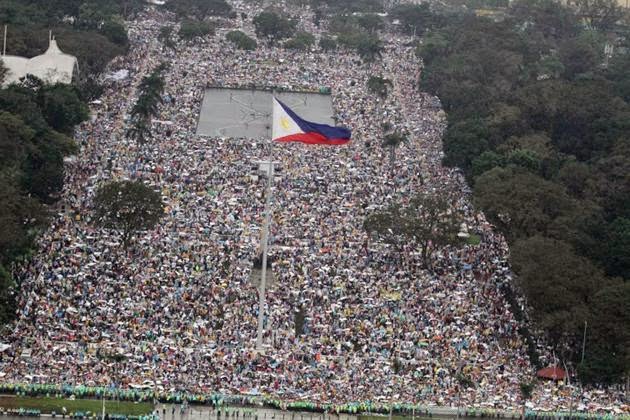 There were approximately 6 million Filipinos in Luneta,
and We are there!
This is our first time to attend a BIG event like this. I thought super ready na ako sa mga dadalhin namin, kulang pa pala. hahaha…
We did not bring pansapin sa semento, picnic style pala pag ganito, kaya shawl ko na lang ang ginamit namin. We did not bring umbrella kasi bawal, I should bought plastic raincoat. #dikasinakikinigsaweatherforecast #toinks
But we brought Sto. Nino, food, water, cellphone, monopod and powerbanks. #IKnowRight
Kahit maraming kulang sa mga dala namin, ang saya saya pa din ng feeling kasi ang dami namin excited makita si Pope Francis.
From 6am to 3pm, we waited for him. When we heard that he is coming na in our area, I felt the excitement. Despite the cold and rain, walang titinag sa amin. When he passed by, it is the longest 3 seconds in my life. I kept on shouting, "lolo Kiko, lolo Kiko".
I admit I am teary-eyed when I saw him even I'm afar. I cannot explain why do I feel that way. Maybe because of his teachings, his examples, his love for everyone.
All I know is that I love Pope Francis.
I feel so blessed! Thank you sa Malasakit Pope Francis!
Thank you Father God for blessing us a Leader like him.
See you in Vatican Pope Francis! 😀
♥♥♥