Two months from now I'm going to say goodbye to the Corporate world. I'll be a Stay at Home Mom for the meantime while learning new things about Wahming.
I feel so lucky because there is a support group for WAHM, for a newbie like me. Truly, there is a lot of people willing to share their knowledge and experiences. Manila Workshops is one of them. It is founded in January 2012 by Ms. Ginger Palma-Arboleda. They aim to continuously create workshops that would help enhance knowledge in these different areas: creativity, business and personal development.
For this year, Manila Workshops and the WAHMderful Life- they are the most friendly and supportive organization of work-at-home professionals- launched the empowering work at home workshops for 2015. The theme for this year is "Be Financial fab, fulfilled and free WAHM". The goal of the workshops this year is to help Mommies, like me, to take immediate action and make our WAHM journey profitable so we can truly enjoy "making a living while making a home and making real money, too!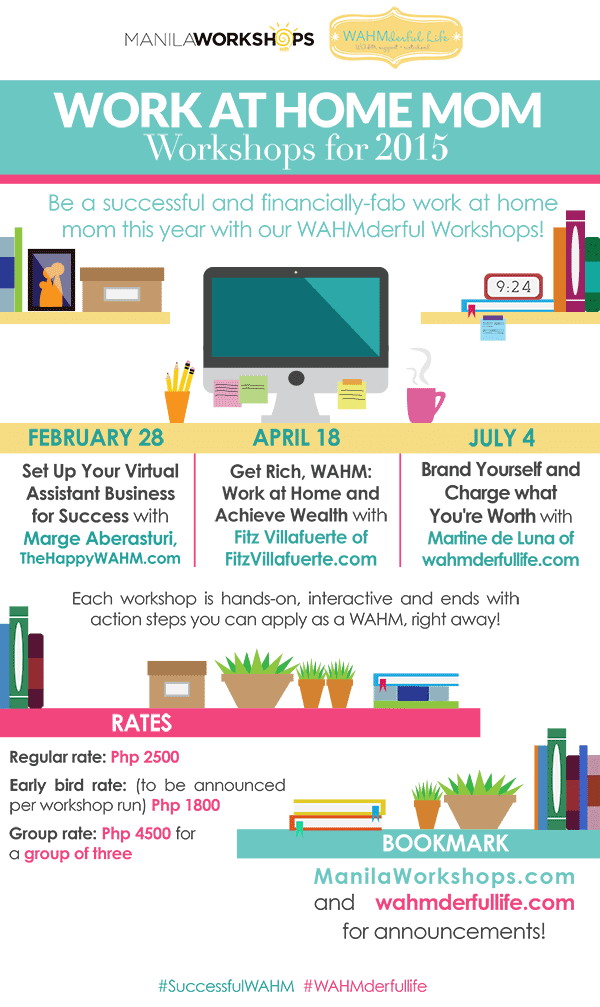 When I learned about this workshop, I immediately signed up to avail the early bird rate of P1,800 (which is until February 18 only) for the first workshop of the series which is happening on February 28, 2015.
These are the FAB WAHM Series:
Real Ways to Be a WAHM: Set up your Virtual Assistant Business for Success
with Marge "The Happy WAHM" Aberasturi.
Date: Saturday, February 28, 2015
Time: 10AM to 5PM
Venue: Ortigas Foundation Library, Meralco Avenue (building beside McDonalds)
Get Rich, WAHM with Fitz Villafuerte
Date: Saturday, April 18, 2015
Time: 10AM to 4PM
Brand Yourself for the Perfect Clients (and Get paid what you deserve!) with Martine de Luna
Date: Saturday, July 4, 2015
Time: 10AM to 4PM
As you register, please put LRLGWAHM2 on the referral code to let them know you heard the workshops from me.
Be Financially Fit, Fulfilled and Happy Work at Home Mom in 2015. Register now!
Click here: WAHMderful Workshops
See you there!