Last weekend, the Gonzales family attended the first sunday mass in St. Pio Church at Libis, Quezon City. I think it's not our first time to go here but it is our first time to attend the first Sunday Mass.
We attended the 12:15 pm mass. Pagdating namin marami ng tao and umuulan pa. We settle na lang sa bandang likod para makasilong. After the mass, all the attendees will line up because the Lay Ministers will put oil in the forehead and palm. Kaya naman di namin ito pinalagpas kasi nga it's our first time to experience din. I think every first sunday mass lang meron anointing ng oil.
I feel so blessed after the mass. I then went to light candle and offer my petition to St. Pio of Pietrelcina. I believe in God's time, He will answer my prayer and of course through the intercession of St. Pio.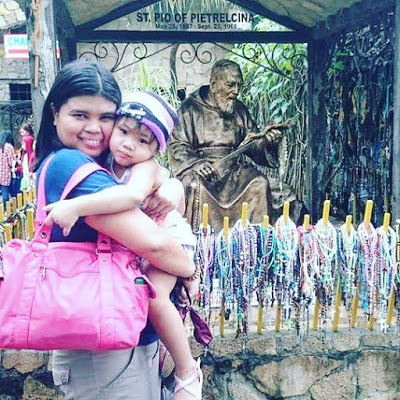 St. Pio of Pietrelcina , pray for us.
We are praying na every first Sunday ay makapag mass kami dito, medyo malayo kasi sa amin bilang taga- Cavite kami. Sana makapunta din kami sa St. Pio Chapel sa Batangas.
If you would like to know the mass schedule in St. Pio, just visit their FB page.