Through the years, Goldilocks is our favorite bakeshop whenever we have celebrations or we just like to eat cakes. Everyone has a favorite Goldilocks treat. If you will ask me what are those, well, aside from their delicious cakes, I personally love their chicken empanada, polvoron and fresh lumpia. Yummy!!!
This year,
Goldilocks
celebrates 50 Golden Years of being the country's number one bakeshop, having opened its doors to the public last May 15, 1966. Since then, Goldilocks has become a Filipino icon and a cherished family tradition for generations of customers.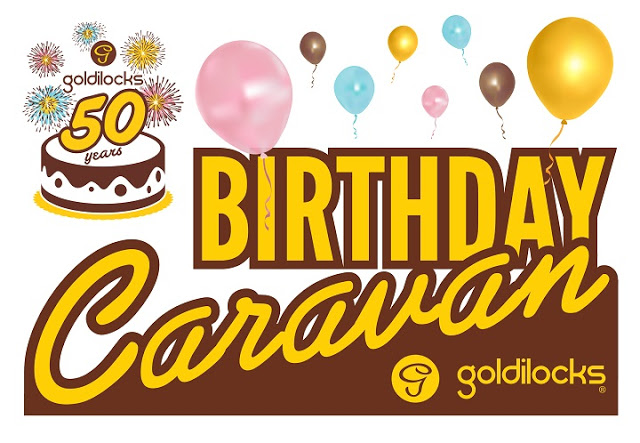 As part of its ongoing festivities, Goldilocks has lined up delightful activities through its Birthday Caravan, including a two-day visit to Enchanted Kingdom. Employees, friends, loyal customers, and members of traditional and online media were treated to a carefree and fun-filled experience at the amusement park, in keeping with the celebratory atmosphere of the 50th year anniversary.
The Goldilocks Birthday Caravan is one of many initiatives that the Philippines' best-loved bakeshop has undertaken this year, in order to commemorate five decades filled with sweet moments and countless Filipino celebrations. Even after half a century of leadership, however, Goldilocks is still moving forward, finding new and innovative ways to serve its next generation of customers.
I am one of lucky mommy bloggers who got the invite for this celebration. What's more exciting is that this is another bonding time for our family, of course with other Blogger friends.
Last June 2, we all met in Mandala Park in Shaw Blvd, a few blocks away from Goldilocks Head Office. Feeling excited talaga kami dahil an hour before the bus leaves, present na kami ni Mommy Jho, Reylen and Michelle, with our kids, Rylee, Ysa, Enzo and Ashley.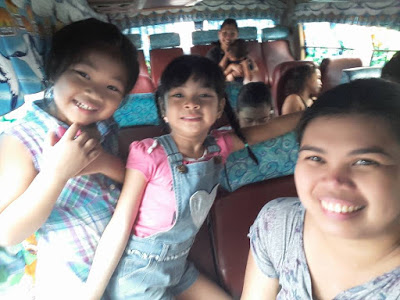 We're on our way to Enchanted Kingdom..yipee!!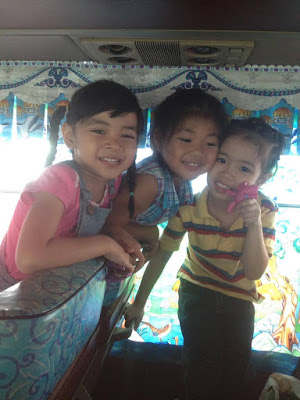 We're here….Thank you for the EK tickets and Goldilocks loot bag!!!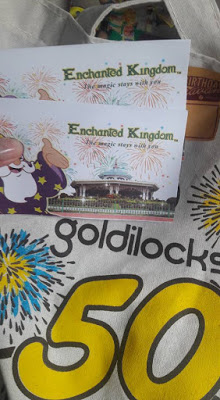 Before we roam around Enchanted Kingdom, Goldilocks prepared a short program.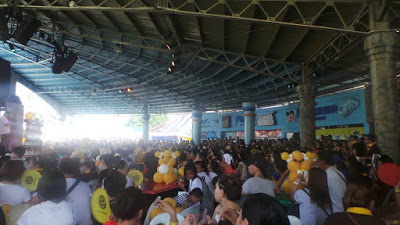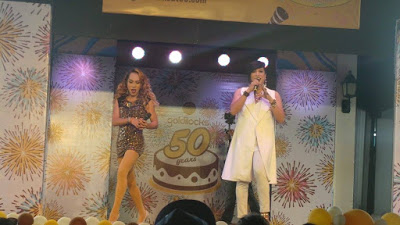 Vice Ganda Kalokalike, entertaining the crowd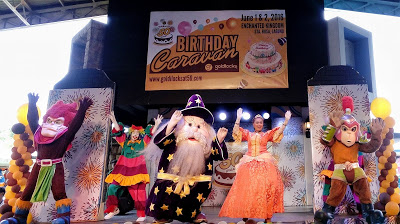 Eldar The Wizard and friends joining in on the fun!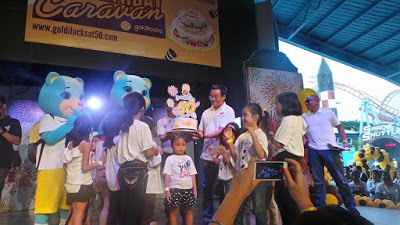 Happy GoldiBirthday Goldilocks!!!
pretty Mommy blogger friends while waiting for our lunch!
After eating lunch, it's time to explore EK! ayiee…We're very happy because it's our first time here!


Daddy Ryan followed after his half day work, so The Gonzales Family is complete! Yipeee….
Let me share our adventures here in Enchanted Kingdom with Mommy friends, Jho and Michelle!
di pa kami haggard dito…hehehe
Because we have kids na kasama, syempre ang mga rides ay dapat kid friendly…hihi!
train
Up Up and Away
Rylee enjoyed riding the Bumper boat.
Look at her priceless smile!
Rio Grande Adventure, di kami nabasa,
basang basa…hahaha
enjoymuch dito!!!
Roller coaster ride is love!!!
We also tried different games using some of our wizard money
thank you Mommy Michelle for the photo!
because of that we got these loots from EK!
Thank you Goldilocks!
from The Gonzales Family
#GoldiBirthdayCaravan #GoldilocksAt50
For events and promos, like Goldilocks FB page, follow them on Instagram and Twitter.