The Original Sinigang recipe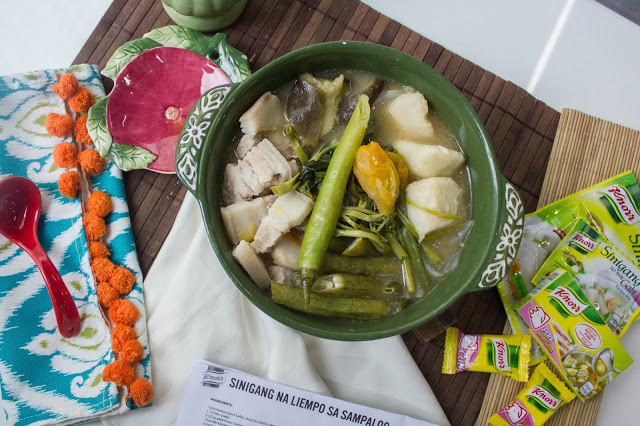 Knorr Sinigang na Liempo sa Sampaloc
1 kilo liempo (pork belly), sliced in 2 inch cubes
2 (22 g) pack Knorr Sinigang na Gabi
3 medium taro root (gabi), peeled and halved
3 medium ripe tomato, halved
2 medium yellow or white onion, quartered
2 cups string beans (sitaw), cut in 2 inch length
1 large Chinese eggplant (talong), sliced
3 to 4 pieces long green pepper (siling pansigang)
ü
Fish sauce (patis) to taste
1.
Boil the water in a cooking pot.
2.
Add the tomato and onion. Set the heat to medium and continue to boil for 15 minutes.
3.
Add the pork belly and gabi. Continue to boil in low heat for 1 hour or until the pork gets tender. Add more water, if necessary.
4.
Add the Knorr Sinigang na Gabi mix. Stir.
5.
Add the long green chili and boil for 3 minutes.
6.
Stir-in the okra, string beans, and eggplant and cook for 5 minutes.
7.
Add the kangkong and fish sauce. Stir. Cover and turn off the heat. Let it stay covered for 5 minutes.
8.
Transfer to a serving bowl.