Among the four different sinigang variants that I've learned from the
#LutongNanay event
, Sinigang with Pakwan is my favorite. It's a combination of sweetness from the watermelon and sourness of Knorr Sinigang Mix.
How to cook it?
Here's the recipe: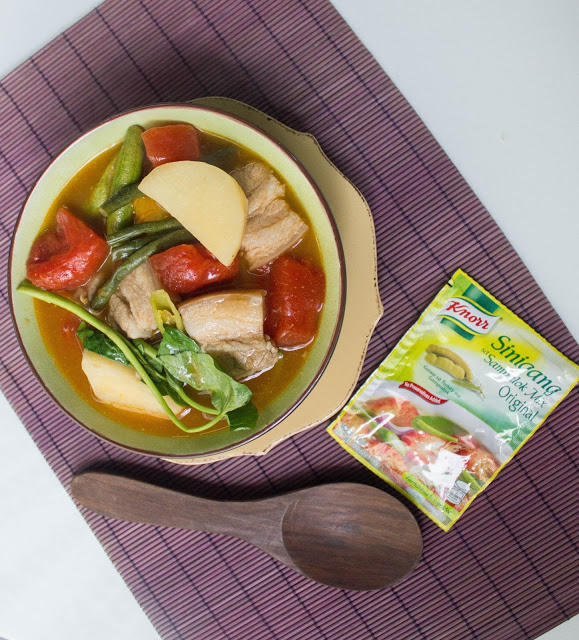 Sinigang with Pakwan
INGREDIENTS:
5 500 grams Pork Belly 3 inches x 1 inch slices
3 tbsp Knorr Liquid Seasoning
1/2
onion, cut into 2 wedges
3 pcs tomatoes, sliced into quarters
1 inch fresh ginger, cut into fine matchsticks
1 lemongrass stalk, white part only
2 pcs fresh kaffir leaves (optional)
200 grams
gabi, sliced into cubes
500 grams seedless watermelon, peeled & cut into 1inch cubes (divided into 2 parts)
1 22-gram pack Knorr Sinigang sa Gabi mix
1 cube from Knorr Beef Cubes
2
long green chillies, sliced
150 grams sitaw, cut into 7 cm lengths
1 tbsp
fish sauce, plus extra to taste
¼ tsp
freshly ground black pepper
1. Marinate the pork belly in Knorr Liquid Seasoning for at least 30 mins.
2. Place a large casserole over medium-high heat. Add the oil and, working in batches, cook the pork until evenly browned. Remove with a slotted spoon and set aside.