Wattpad, the global multi-platform entertainment company for original stories, through its digital advertising partner AdSpark; has partnered with the country's number one fast food chain to come up with heartwarming stories and to take Filipino culture and storytelling to a global audience.
The #KwentongJollibee on Mobile was launched last September 7 at Marco Polo Hotel.
The partnership takes off from the successful and well-received
Kwentong Jollibee
digital campaign that was launched early this year and has since tugged at the heartstrings of many Filipinos.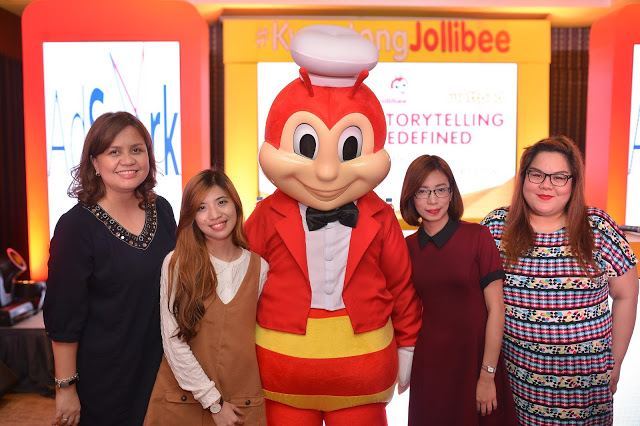 Kwentong Jollibee writers, Ilyn, Tina and Bianca with
Jollibee Philipines Brand Communications and PR Director Arline Adeva.
The stories developed for Kwentong Jollibee on mobile are
One Thing Remains
by Ilyn Danganan,
Memory Lane
by Bianca Bernardino, and
ByChance of Fate
by Tina Lata. Each story targets different age groups of interest, but showcases the Filipino culture as being kind, hospitable and joyful. As in the digital campaign that inspired these Wattpad stories, Jollibee played a role in the lives of the characters as they went through their own personal journeys.
One Thing Remains
is the story of Carlo and Chesca, two inseparable siblings whose relationship is tested when Chesca becomes too occupied with her new life as a college student. Memory Lane is a story about Mariel and Marco, a couple who decide to separate on their 58thmonthsary. They accidentally meet again, and the nostalgia of their past relationship is too compelling to ignore. Chance of Fate tells the compelling story about a grandfather named Gilbert, who fears of returning to his favorite restaurant where he first met his first love, Lydia.
"Jollibee is proud to continue to be a part of Filipinos' lives for generations.
We offer not just great tasting food but joyful moments that bring families and friends closer. With a lot of stories that were inspired by the everyday scenes
we are witnessing in our Jollibee stores, we found the perfect partner in
Wattpad to help capture and share these moments via traditional storytelling.. Truly our customers will be able to relate and enjoy the three stories crafted by three of the most talented Wattpad writers," said Jollibee Philipines Brand Communications and PR Director Arline Adeva.
To further capture the different kinds of bonding moments that Filipinos have shared inside Jollibee stores, Jollibee invited the Wattpad community to share their own Kwentong Jollibee in this modern and convenient platform. Each of the user-generated stories reflects Jollibee's role in making memorable moments with their loved ones. Special Jollibee awards will be given to the nine chosen winners at the SMX Convention Center on September 18, 2016 as part of Wattpad's much awaited annual writing contest —
The Wattys.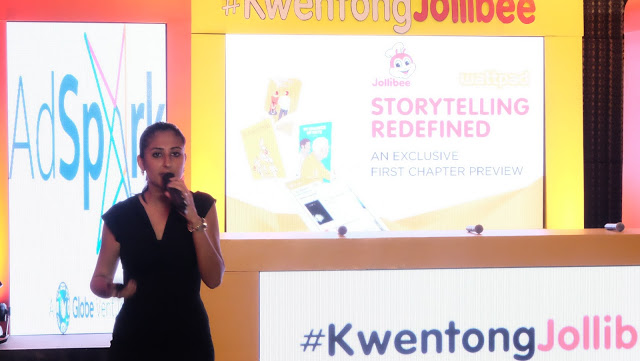 AdSpark CEO Bela Gupta D'Souza
AdSpark, a wholly owned subsidiary of Globe Telecom specializing in mobile-first digital marketing solutions, is the official advertising partner for Wattpad in the Philippines.
Read the three stories with your desktop or mobile device by downloading the Wattpad app on Google Play or Apple App Store or by visiting
www.wattpad.com/user/Jollibee.
Here's the summary of the #KwentongJollibee on Mobile Press Launch event!
Thank you Jollibee and AdSpark! My daughter is so happy to see her all time favorite mascot, best friend Jollibee! ^_^