Investing in the Stock Market is one way to prepare for the future. We started joining the stock market 5 years ago for a long term investment. And because we are part of the stock market bandwagon, we are also wondering if is it still a good time to invest or is it time to pull out our hard-earned money?
Last January 25, I was invited to attend SUN LIFE Market Outlook for 2017. I am really happy and thankful to know that the Philippine Economy will continue to remain strong this year and could even grow by 7%. It is certainly good news to everyone, and that we don't need to worry.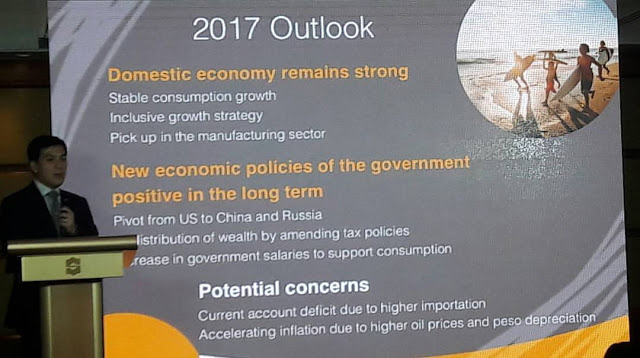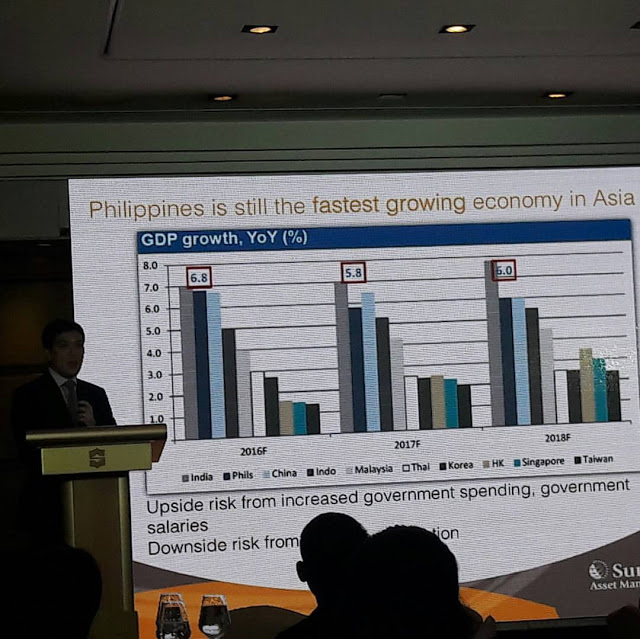 This was reassured by Sun Life Chief Investments Officer Michael Enriquez as he explained that with the increased consumer and government spending, the outlook remains fundamentally positive. Mr. Enriquez advised investors to stay the course, and even boost our investments.
"Remittances from overseas Filipino workers, the BPO industry, and the large number of Filipinos who are of working age are among the factors boosting our economy from the consumer's end. On the other hand, the rise in government spending is bringing about more jobs and has also increased the demand for construction materials. With stock prices cheaper, it is a good time to buy so they can enjoy the greater gains once the market goes up".

Investing in Mutual Funds
Another way of investing is thru Mutual Funds which I am also interested to do. The Sun Life Prosperity Funds have been performing strongly amid the developments in the market. We'll take advantage of this opportunity soon.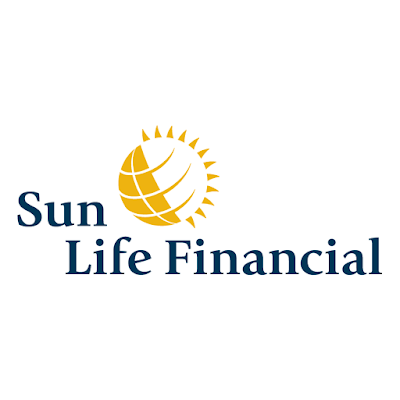 Sun Life Prosperity Funds
is one of my target investment this year.
For a minimum of Php 5,000, one can jump start an investment account
that are managed by top notch investment professionals who are dedicated to ensuring that the funds generate the best returns over the long term.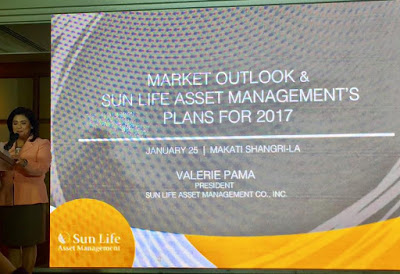 Ms. Valerie Pama, Sun Life Asset Management Company, Inc (SLAMCI) President shared this:
"We're delighted that our investors are reaping the rewards of their commitment to invest for the long-term, and we hope to see more Filipinos treading the same path so they too can experience financial security. More partnerships with banks, brokers, and alternative channels will be launched, and we will also enhanced our online capability including the Money for Life e-Planner."
SLAMCI will pursue this vision by championing financial inclusion and further boosting its financial literacy program to educate Filipinos about the best ways to grow their money. The company will also strengthen distribution channels to reach new markets.
SLAMCI will also be more aggressive in promoting its program such as Sun RISE, wherein employees can invest a minimal amount via salary deduction; and Auto-Invest, a regular investment program in cooperation with partner banks.
More new funds are set to be launched as well. At present, the Sun Life Prosperity Funds has seven peso-denominated funds (Money Market Fund, GS Fund, Bond Fund, Balanced Fund, Dynamic Fund, Philippine Equity Fund, and Philippine Stock Index Fund) and four dollar-denominated funds, (Dollar Abundance Fund, Dollar Advantage Fund, Dollar Wellspring Fund, and World Voyager Fund.)
"With the help of 3,200 mutual-fund licensed Sun Life fnancial advisors, and the support if all our partners, we trust that 2017 will be another fruitful year in helping Filipinos achieve prosperity and build a brighter future." Pama said
When it comes to investing, time is one of our greatest assets. Discover how your small amount of money today can be millions in the future. To learn more about
Sun Life Financial,
visit
www.sunlife.com.ph/