Ajinomoto Philippines Corporation organized a press conference to announce the launch of its newest product, Sarsaya® Oyster Sauce, and celebrity endorser, Mr. Coco Martin.
Sarsaya® Oyster Sauce is concentrated from real oysters, complete with seasonings to provide a delicious blend of savory, sweet and salty taste to any dish.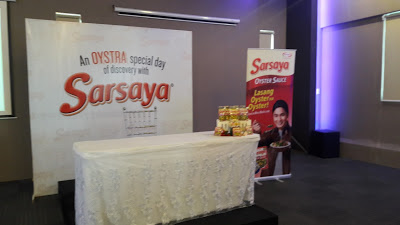 According to Pen Alvina, Ajinomoto's Category Manager for Menu Seasonings,
"Sarsaya® Oyster Sauce is a unique brand of oyster sauce that is created to suit Filipino taste and preference, making many Filipino dishes like ginisang kangkong and adobo more flavorful and delicious."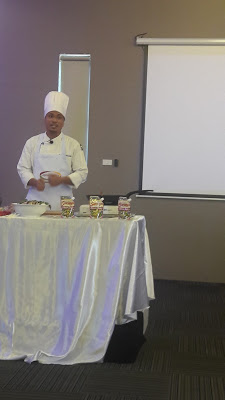 During the event, a live cooking demonstration and cook-off was facilitated by Chef Mcrhyan Rodrigo. Chef Mac cooked Filipino favorites Ginisarsayang Kangkong with Tokwa and his own recipe, Thai-style Stir Fried Chicken using Sarsaya® Oyster Sauce.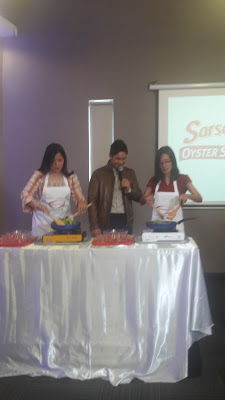 Guests were also invited to participate in a cook-off, where they discovered the convenience of using Sarsaya® Oyster Sauce to turn ordinary dishes extra special and flavorful. No less than the Primetime King, Mr. Coco Martin, was chosen to endorse Sarsaya® Oyster Sauce.
Aside from being a big fan of his grandmother's cooking, Coco graduated with a degree in Hotel and Restaurant Management. Coco claimed, "Kakaiba dahil lasang oyster na oyster!"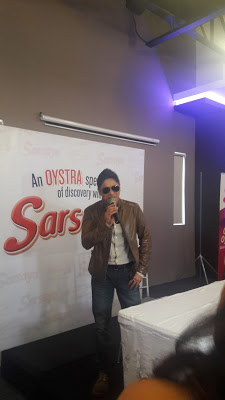 He loved how Sarsaya® Oyster Sauce can add that delicious and authentic oyster flavor that truly enhances simple dishes.
Sarsaya® Oyster Sauce is available in 30g pack and 156g stand-up pouch. Also try Sarsaya® Sweet and Sour Sauce, available in 200g stand-up pouch, for a delicious blend of pineapple and tomato flavor.
Here's the recipe that Chef Mac demonstrated on the event. It is so easy and the dish only cost P25.00 Will try it soon!
GINISARSAYANG KANGKONG WITH TOKWA
Ingredients:
¼ cup cooking oil
1 square tokwa, sliced into cubes
2 cloves garlic, thinly sliced
½ small size onions, thinly sliced
1 bundle (approx. 200 grams) kangkong, separate leaves and stalks
2 tbsps./30g pack SARSAYA® Oyster Sauce
Procedure:
1. Fry tokwa until lightly brown. Set aside tokwa and sauté garlic and onion on the same pan.
2. Add kangkong stalks and stir-fry for about 30 seconds, put kangkong leaves and fried tokwa. Continue stir-frying.
3. Add SARSAYA® Oyster Sauce. Mix and stir-fry for 1 minute. Serve hot.
Makes 4 servings
Nutrition Information per serving: Carbohydrates 5g, Protein 4g, Fats 9g, Calories 115
Ajinomoto Philippines Corporation (APC) is an affiliate of Tokyo-based Ajinomoto Co., Inc. Established in 1958, APC lives by its promise to provide consumers products that will always give the delicious taste to healthy and nutritious meals as embodied in APC's slogan Ajinomoto® "Eat Well, Live Well.®" APC's complete line of quality food and seasoning products are produced by international affiliates and local toll manufacturers using Ajinomoto's license, quality standards and technological expertise. APC's products include AJI-NOMOTO® Umami Seasoning, Ajinomoto® Brand Ginisa Flavor Seasoning Mix, AJI-SINIGANG® Cube, Ajinomoto® Brand Chicken Powder, PORKSAVOR® All-in-One Seasoning Mix, CRISPY FRY® Breading Mix, CRISPY FRY® SEASONED CRUMBS®, TASTY BOY® All Purpose Breading Mix, AJI-SHIO® Seasoning Mix, SARSAYA® Oyster and Sweet and Sour Sauce and "amino Fres-C" Instant Drink Mix.