Want some dessert and merienda at the same time? Let me share with you a well known Filipino dessert and snack which is made from Corn Kernel and coconut milk, that is Ginataang Mais! Oh so yummy!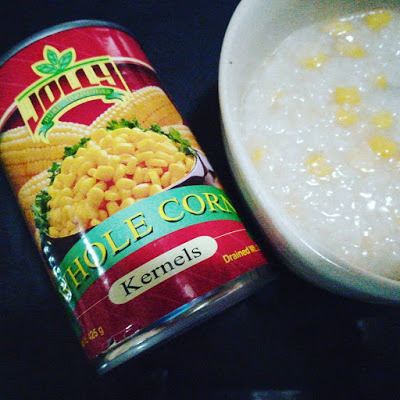 It is so simple and easy to cook recipe. Do try it soon!

INGREDIENTS:

1 cup white glutinous rice
4 cups water
1 can JOLLY Coconut milk
3/4 cup sugar
1 can JOLLY Cream corn or Whole corn KERNEL

Procedure:
In a pot, combine glutinous rice and water.
Simmer to boil until tender. Stir occasionally to avoid sticking on the pan.
Add the coconut milk. Let it boil.
Add the sugar and corn. S

immer for 15-20 minutes while continuously giving it a good mix until you get the right consistency you prefer.

Serve warm or cold.
In this recipe, I used Jolly Corn Kernel. I will try next time Jolly Cream Corn. Let's #JollyEats! ^_^