Flashback 2 years ago, I made the hardest decision but I did not regret giving up my career over my family. Yes, it's been 2 years since I became a hands-on Mom to my 4 years old daughter. And it is also a blessing that I am able to earn while at home.
Do you also want to become a hands-on parent?
Do you and your spouse ache to bond with your child/children but could not, because you are too busy at work or in your business?
Let me share with you this upcoming summit where you can l
earn how to manage your time and become a
#
HandsOnParentwhileEarning
. Get tips from the speakers and panelists and be inspired by how they bond with their children amid their busy schedules.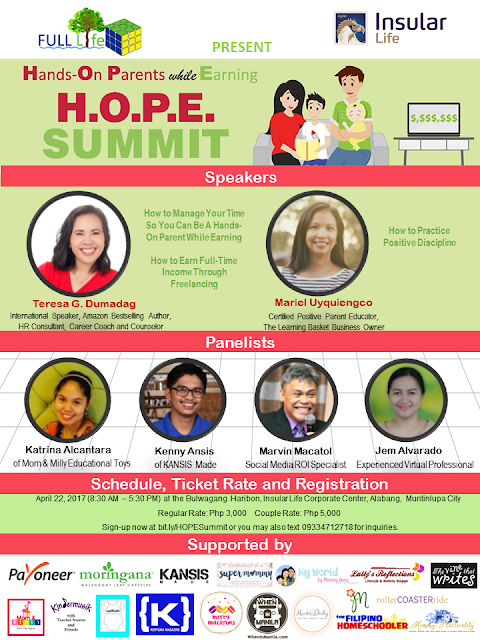 The MAIN SPEAKER and WORKSHOP FACILITATOR will be TERESA GUMAP-AS DUMADAG, a breastfeeding and homeschooling mom who wears many hats. She's an inspirational speaker, Amazon bestselling author, management, human resources and training consultant, career coach and counselor, freelance contributing writer to various publications, president and founder of Full Life Cube Publishing and Events Services on top of being a hands-on mom to her 3 sons.
Teresa has already inspired and equipped th
ousands through the talks, training programs and workshops she has done in the past years in the Philippines and abroad. Her passion is helping people grow, reach their full potential and achieve their goals and dreams.
Through this workshop, learn from her how she manages her time to do all that she does while achieving work-life balance. Learn strategies and discover tools that can help you live out your priorities just like our main speaker. Learn also from her experience how she was able to earn through freelancing in the past decade.
AM Talk/Workshop topic: HOW TO MANAGE YOUR TIME SO YOU CAN BE A HANDS-ON PARENT WHILE EARNING
PM Talk topic: HOW TO EARN FULL-TIME INCOME THROUGH FREELANCING
Talk topic: HOW TO PRACTICE POSITIVE DISCIPLINE
Mariel Uyquiengco is a homeschooling mom of three, a former Kindermusik teacher, and a Certified Positive Discipline Parent Educator. She is the editor and founder of The Learning Basket, a parenting resource and community encouraging parents to be their children's first and best teacher through a blog, online children's bookshop, and parent education classes.
MARVIN MACATOL, Work-at-Home Dad (Social Media Strategist and Blogger). Homeschools his children also.
Register now at
bit.ly/HOPESummit
Onsite registration and claiming of workshop materials starts at 8 AM. Workshop proper will start at 8:30 AM.
– Workshop on How to Manage Your Time So You Can Be a Hands-On Parent while Earning
– Panel interview of REAL Hands-On Parents while Earning
– Small Group Discussions
– Stay-at-home moms/dads who want to earn but want a flexible work schedule
– Entrepreneurs/solopreneurs
– OFWs who want to come home and earn in the Philippines so they can be present for their kids