UPL
, the first largest agrochemical company in the world, held its first Media event last May 11 at Holiday Inn Makati.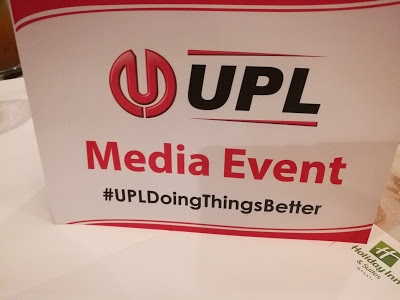 The event is to discuss about farmer's safety and this is also one of their ways of fulfilling their corporate responsibility not just within the business but also to environment and the people.
Mr. Tapas, the UPL Country Head, gave the opening remarks and explained what UPL is all about.

UPL is a leading global producer of crop protection products, intermediates and specialty chemicals and other industrial chemicals. It was established here in the Philippines – August 2012. But they are not only a leading agrochemical company, UPL is also awarded as one of the TOP 50 Most Caring Companies in 2014 and it is visible by the extension of their responsibility to their employees.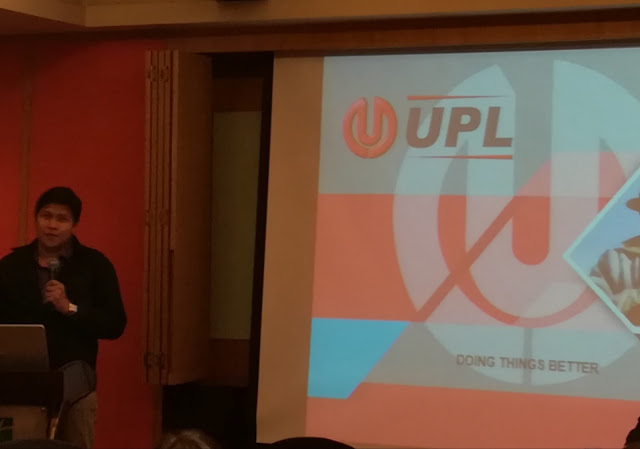 Mr. Marvin Angeles, UPL Senior Technical and Product Development discussed about the products they offer:
UPL PRODUCTS
Vondozeb 42 SC ( Fungicide )
Provides prolonged efficacy to rain
Less risk of inhalation and contact with eyes
Easy to use
Excellence resistance in leaching
Reduces the close rate by up to 25 % has excellent benefit and cost relation
A non-selective post emergent herbicide for control from annual and perennial grasses, sedges and broad leaf weeds.
Fascinate ensures fast burn down and effective killing of weeds.
CYRUX 5 EC
Insecticides for Rice, Corn, Mango, Banana, Cabbage, Tomato, Beans, Tobacco and onions.
RODENTICIDE
A specific type of pesticides which an be used for agriculture and industrial situation to control rats, mice and other harmful rodent.
STARCH-BASED SUPERABSORBENT
A Patented formulation from UPL made specifically for agricultural application which acts like a superabsorbent.
Two of their biggest client are
DOLE
and
Del Monte,
which are the largest producers of pineapple here in the Philippines.
UPL has 28 Manufacturing plants all over the world, India, France, Argentina, China, USA, UK,Vietnam, Italy, Colombia ,Turkey to name some.
UPL is positioned as a knowledge hub that innovates products for the benefit of farmers. Their portfolio of total crop solution products enhances farm profitability and extends from seeds to post-harvest solutions. Their mission and vision is contributing to farmers' prosperity with solutions that increase yields, protect crops, better harvests and prolong storage.
Three simple words, which lie at the heart of the UPL philosophy. "Doing Things Better" is all about raising the bar in global agricultural productivity. It is yet another step to making the world a better place throuh crop protection and farmer's safety.