As a second time Mom, I see to it that every product that I will use for baby Isabelle is gentle and made of no-harmful chemicals. We go that extra mile to ensure that only the most gentle care reaches our baby. Which is why, when it comes to her clothes, I soak them separately, disinfect and rinse thoroughly. Newborn baby's skin is so delicate, madali silang magka rashes kaya dapat talaga extra careful especially sa laundry detergent na ginagamit natin for their newborn clothes.
Johnson's Baby have launched recently a baby laundry detergent exclusively for babies. And I'm one happy Momma when I received a gift from them.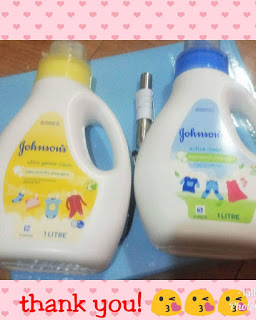 These are Johnson's Baby Ultra Gentle Clean and Active Clean Laundry detergent.
Johnson's Ultra Gentle Clean Baby Laundry Detergent

that is suitable for 0-12 months old. This contains silk protein softeners to make baby's clothes extra soft.

Johnson's Active Clean Baby Laundry Detergent

that is recommended for 12 months old and up. This product contains natural propolis and green tea for clean and fragrant baby clothes.
Rinses clean so no harsh irritants touch baby's delicate skin

Removes germs

Softens fabric

Is developed with dermatologists to be mild enough for newborn skin

Contains silk protein softeners for extra soft baby clothes

Is free of phosphate

No addition of fluorescent, bleach and colorant
Now, I'm using Johnson's Baby Ultra Gentle since its for newborn babies. It has mild fragrance that stays longer even after the clothes are washed and dried. I can also use it both for hand wash and machine wash.
Johnson's know that we need to protect our baby from everything harsh. These products are a must-have for every mommies.
Have you tried this laundry detergent? It's amazing find for me, you must give this a try!
It is available in all leading supermarkets nationwide. It comes
in 1L bottle and 500ml refill.