The diversity of feminine beauty and brains – from fair to morena, athletic to plus size, entrepreneurs to philanthropists, and many more – was the subject of an exhibit organized recently by SM Supermalls at SM Mega Fashion Hall.


The SM World of Women Exhibit, in partnership with celebrity photographer Niccolo Cosme of Project Headshot Clinic, recognized empowered women who achieve their dreams and aspirations.
We honor women's power, strength, and countless achievements. Women are the doers and dreamers. They are strong, accomplished, and wise beyond years," said Jonjon San Agustin, SM Supermalls Senior Vice President for Marketing.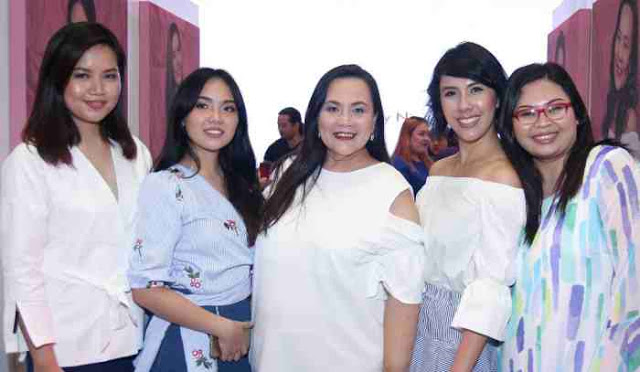 The #WorldOfWomenAtSM digital activation winners who gave the most insightful reply on what it means to be an empowered woman (L-R) Stephanie Justine Espallardo, a medical doctor; April Joyce Zaide, an engineer; Ma. Corazon Lacambacal, a full-time mother; Carla Cabral, a social media strategist; and Mica Catanghal, a pharmacist.
The project featured 31 inspiring and beautiful ladies who have made a difference in the lives of Filipinos through their chosen advocacies. Among the group were Miss World 2013 Megan Young; HIV awareness and safe sex education advocate Angel Jones;
Entrepreneur of the Year
Philippines'
2017 Woman Entrepreneur of the Year Rissa Mananquil-Trillo; 'warrior princess for peace' Honey Sumndad-Usman; and mother-daughter celebrity beauty experts Vicki Belo and Cristalle.
Five women, whose portraits were also part of the exhibit, were recognized as the winners of the #WorldofWomenAtSM digital promo. They gave the best answers on what it means to be an empowered and independent woman. Maria Corazon Lacambacal, full-time mother and cancer survivor, emphasizes the importance of living a fuller life with confidence, while Mica Flor Catanghal, a pharmacist, believes empowered women exude strength of character. Stephanie Justine Espallardo, a medical doctor, Carla Cabral, a social media strategist, and April Joyce Zaide, an engineer, also won prizes for their answers.
"I am very fortunate to have been able to photograph these empowered women with stories that speak of resilience, joy, and endless dreams. We can always learn a thing or two from women. Mabuhay ang kababaihan," said Cosme.


Other SM World of Women participants included Abbygale Arenas-de Leon, Maria Lourdes Bernadette Zaragosa-Banson, Kassy Pajarillo, Jing Casta
ñeda, Katrina Gumabao, Dinah Salonga, Bambina Olivares, Sheena Vera Cruz, Lyn Pinugu, Kai Lim, Jessica Kienle, Gang Badoy Capati, Roxanne Ang-Farillas, Angel Guerrero, Pinky Yee, Bea Ledesma, Milka and Shiella Romero, Raizelle So, and Gelli Victor.
Follow SM's official social media accounts on Facebook, Twitter, and Instagram (@smsupermalls); and get insider access to all the fun happenings at SM Supermalls nationwide through SM's Viber Public Chat.
Post your thoughts, upload and share your photos about your memorable moments at SM, and use its official hashtag, #EverythingsHereAtSM.