Do you love perfume that smells like your favorite dessert?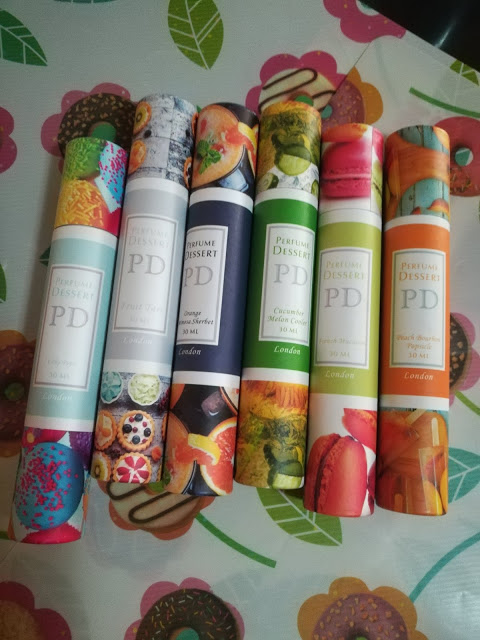 Here's a new line of perfume from UK that has scent of our favorite dessert and fruits like Fruit Tart, Cucumber Melon Cooler, French Macaton, Orange Sherbet Mimosa and Peach Bourbon.
Perfume dessert comes with 30 ml and crimped bottle, it will retain the freshness of the perfume, it will not diffuse or avoid leakage. Because air, humidity, and temperature changes can affect perfume, it should be kept with its cap on and sealed in its protective bottle as much as possible. bottle designs that CANNOT be opened and can only be sprayed, is the SAFEST for PRESERVING the fragrance best quality. And the design of the bottle is so simple and handy, no complicated bottle design or luxurious cap, that's why its cheap, but the oil is 100% high quality.
Eau de parfum fragrances from London at a very low price. Eau de parfum (also referred to as EDP) offers a 20-30% percent concentration of oils. It has staying power of anywhere from four to eight hours is a reasonable expectation. Because it can still be quite strong, apply lightly for a day – and more generously when you're dressing up.
Perfume Dessert's elegant packaging is great not only for personal use but also for giveaways or gift for loved ones. It's really an effortless, no need for extra wrapping or extra packaging. Perfect for this Holiday Season.
Perfume Dessert is guaranteed 100% from UK. You can check it by the first 3 digits of the barcode, they do indicate the country in which the company is based, or the manufacturing company is headquartered, Perfume Dessert's first 3 digit is 506, and U.K's barcode is from 500-509.
Perfume dessert serves as a natural aphrodisiac, because of its gourmand notes, and it contains pheromones, which really have aphrodisiac properties. It explains why you get attracted to someone because of these kinds of perfume. And everyone wants to be attractive.
Comes with a whopping price of Php 250.00 per bottle. Very budget friendly.