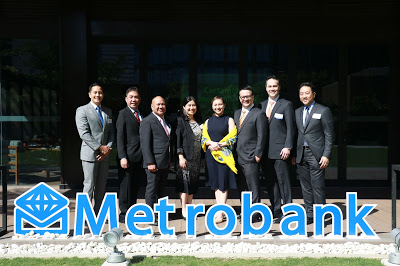 L-R: Metrobank Vice President Kael Pasimio, VP Marc Bautista, SVP Dondi Santillan, VP Elizabeth Legaspi, SVP Jikee Reyes, FVP Rommel Dionisio, SVP Anton Yap, and FVP Ruben Zamora.
The Grand Hyatt Manila became a meeting point for financial market experts, corporate executives, institutional investors and high net worth individuals as Metropolitan Bank & Trust Co. (Metrobank) recently hosted a series of Financial Markets Briefings.
The three-day event focused on macroeconomic and investment themes, highlighting the opportunities to generate returns despite a volatile landscape. Vice President and Head of Research, Marc Bautista discussed his macroeconomic forecasts and views and highlighted key drivers. First Vice President and Head of Institutional Investor Coverage, Ruben Zamora discussed strategies in financial markets given the current global and domestic themes.
At the culminating open forum, the speakers were joined by Metrobank's Head of Trust Banking, SVP Dondi Santillan and Head of Treasury, SVP Anton Yap. They discussed with the attendees their views on the opportunities and the implications on their business operations and risk management requirements.
Metrobank is the country's premier universal bank and has one of the largest domestic networks with over 950 branches and over 2,300 automated teller machines (ATMs) nationwide, and 32 foreign branches, subsidiaries and representative offices.
For inquiries, please contact Corporate Communication Department at 857-5526, or call the Metrobank 24/7 Customer Hotline at 8700-700, or log on to
www.metrobank.com.ph
. For provincial areas, call toll-free 1-800-1888-5775.