Herbalife Nutrition Ltd. (NYSE: HLF) today reported financial results for the third quarter ended September 30, 2020:
HIGHLIGHTS ▪
Reported net sales of $1.5 billion for the third quarter 2020 increased 22.3% compared to the third quarter 2019 and represents the largest quarterly result in Company history.
Excluding the impact of foreign exchange rates and Venezuela, net sales increased 25.1% during the third quarter compared to 2019.
Volume points of 1.9 billion, also a quarterly record for the Company, increased 23.2% compared to the third quarter 2019.
This is the tenth consecutive quarter of year-over-year volume point growth.
Year-over-year volume point growth in all six geographic regions with four of six regions delivering double-digit increases.
Third quarter 2020 reported diluted EPS of $1.04 and adjusted1 diluted EPS of $1.15, compared to $0.58 and $0.73, respectively, for the third quarter 2019, which were negatively impacted in 2020 by expenses of approximately $3.2 million, or $0.02 per diluted share, and in third quarter 2019 of $5.8 million, or $0.03 per diluted share, related to the China Growth and Impact Investment Program.
During the third quarter, the Company repurchased approximately 16.4 million of its common shares at an aggregate cost of approximately $800 million, including $750 million from the modified Dutch auction tender offer completed in August 2020.
Providing Q4 and FY 2020 net sales guidance ranges of 10.0% – 20.0% and 12.2% – 14.7% growth, respectively. ▪ Initial FY 2021 net sales guidance range of 3.0% – 11.0% growth, as well as reported and adjusted1 diluted EPS guidance ranges of $3.50 – $4.00 and $3.65 – $4.15, respectively.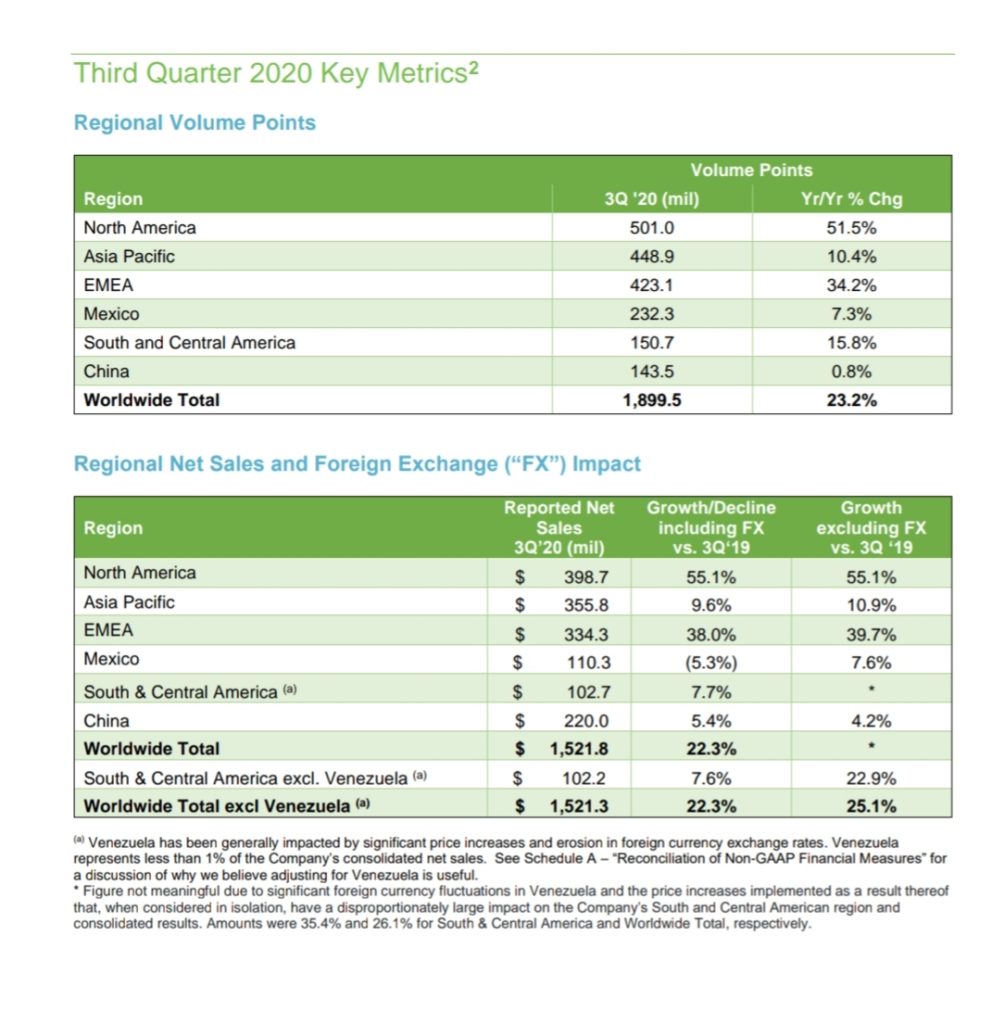 "We achieved another net sales record for the quarter, exceeding $1.5 billion, as consumer interest in health and wellness continued to drive demand for our nutrition products." – John Agwunobi, Chairman and CEO of Herbalife Nutrition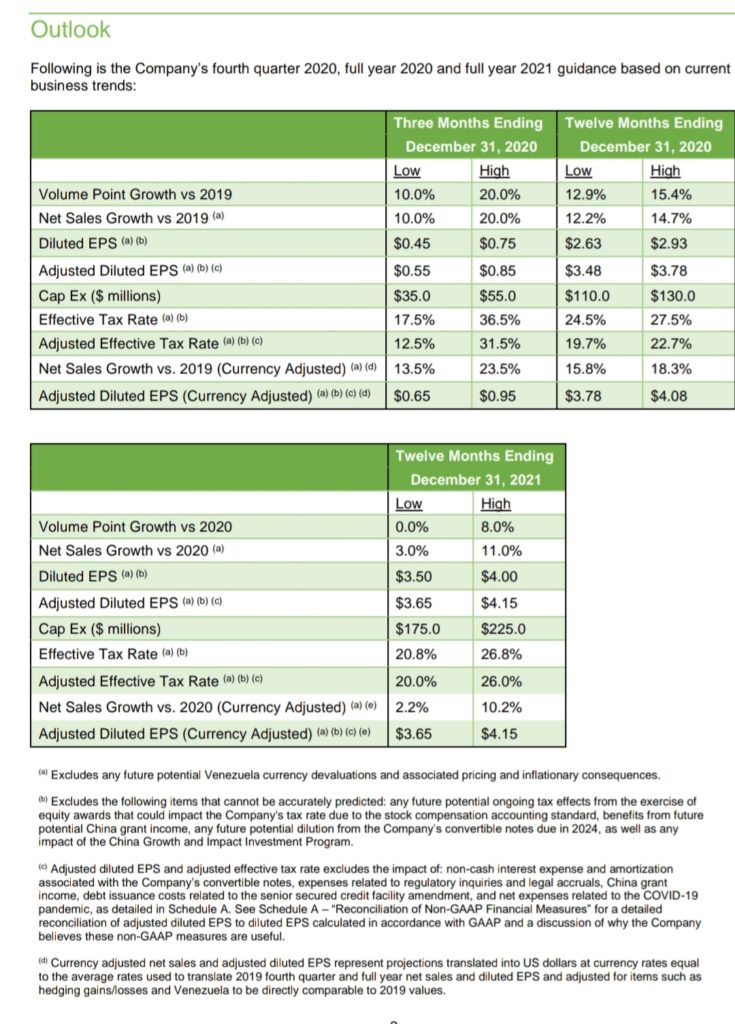 Warrants
In an effort to return value to shareholders, the Company's Board of Directors has declared a distribution of warrants to holders of its common shares.
The record date for the distribution is November 16, 2020, and each holder of Herbalife Nutrition common shares will be entitled to receive one warrant for every four Herbalife Nutrition common shares held.
Each warrant will entitle the warrant holder to purchase one common share of Herbalife Nutrition for a purchase price of $67.50 and the distribution of the warrants will be made on December 14, 2020.
The warrants will have a term of seven years and will be exercisable only on the expiration date. The
Company expects to list the warrants on The New York Stock Exchange.

Earnings Conference Call
Herbalife Nutrition senior management will host an investor conference call to discuss its recent financial results and provide an update on current business trends on Thursday, November 5th, 2020, at 2:30 p.m. PT (5:30 p.m. ET).
The dial-in number for this conference call for domestic callers is (833) 962-1459, and (956) 394-3596 for
international callers (conference ID: 9991856).
Live audio of the conference call will be simultaneously webcast in the investor relations section of the Company's website at http://ir.Herbalife.com.

An audio replay will be available following the completion of the conference call in MP3 format or by dialing (855) 859-2056 for domestic callers or (404) 537-3406 for international callers (conference ID: 9991856).
The webcast of the teleconference will be archived and available on Herbalife Nutrition's website.