The pandemic has prompted new parenting discoveries and experiences for mothers. Like most, Toni Gonzaga-Soriano usually stays at home with her family. This allows her to spend productive days of learning and playing with her five-year-old son Seve.
"We wake up and sleep together all the time," Toni said. "He's on school break now, so we eat breakfast together then he goes to his room and plays. In the afternoon, we do different activities."
Toni prioritizes Seve's All-Around Development. As a mother, her dream is to give her child the love and care he needs, along with proper nutrition so he can be the smartest and strongest kid he can be. "My main concern about Seve is hindi siya mapag-iwanan when it comes to learning," Toni said.
The pandemic then helped Toni realize what can benefit Seve to be "lamang". Read them below.
Smart and fun play
Seve easily absorbs and adapts to anything. He is also at a stage where he is fascinated with supercars. "It's impressive when he's really into something, he learns every single detail about it," Toni said. They bought him books about different fast cars to support his current interests. Now, Seve can identify the supercars based on logos and even describe its horsepower and engine type.
Toni also encourages active play. Seve likes building racetracks in his room, biking outside, and playing basketball – which for Toni are good for physical well-being and mental stimulation.
Home-supported learning
Toni counts it as a blessing that Seve gets to learn even if it's online. She can be more present and attentive to his needs, as she monitors his schooling. "It's not enough that my kid is strong and healthy, he also needs to be smart and confident so that he can be an All-Around kid. So, whatever he does, he can do it. Wherever he goes, he can." Toni said.
Right milk partner
"I believe that complete nutrition is achieved through holistic nurturing," Toni said. It is important for her that her son is able to keep up with the demands of today, so she relies on the new and improved Vitaminized Lactum 3+ to help her kid to be lamang in All-Around Development**. Toni believes that nurturing our kids with proper nutrition and support is the best gift we can give them.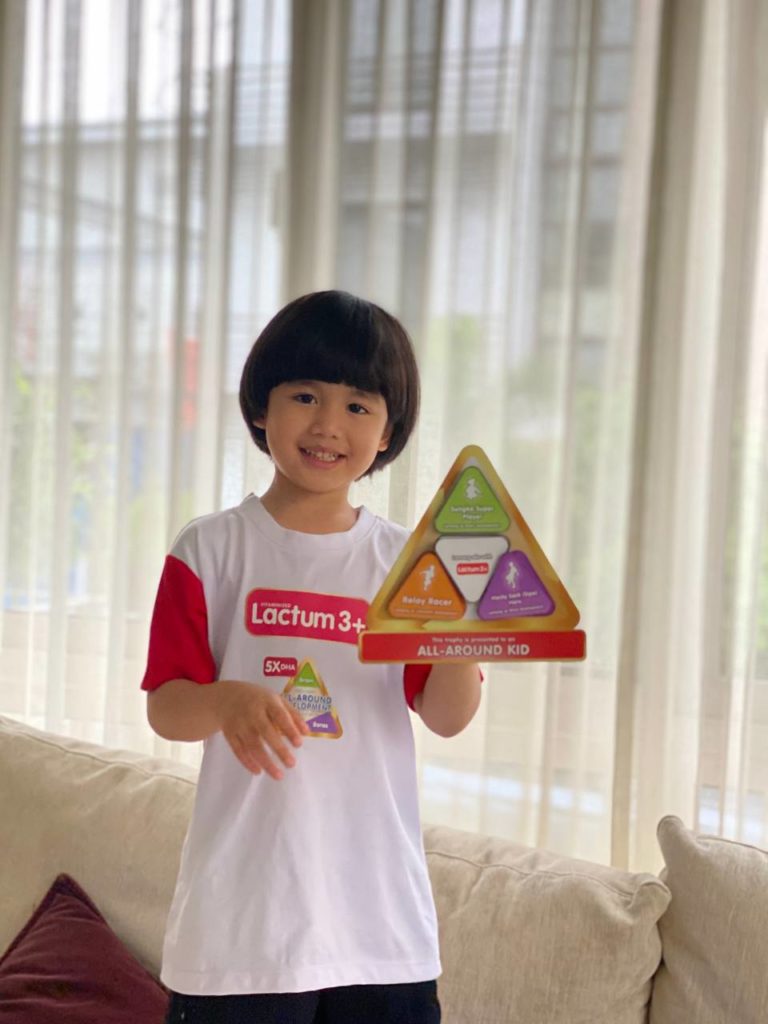 The new and improved Vitaminized Lactum 3+ now has five times more DHA*, together with Iron and Iodine, for brain development. It is also enriched with key vitamins and nutrients like Vitamins A, C, E, Prebiotic Inulin, Selenium, Zinc to support immunity; and Calcium and Vitamin D to help make bones stronger.
Toni knows that with care, proper diet, stimulation, and all the nutrients from Lactum 3+, Seve will never be left behind by his peers.
"As a mother, that is the greatest validation we can get – when we see them reach their full potential as a kid. I value that very much because when we see our kids happy, that makes us the happiest," Toni shared.
Help your child reach his/her All-Around Development** in Brain, Bones, and Immunity with the help of the new and improved Vitaminized Lactum 3+ now with five times more DHA* — available in all leading drugstores and supermarkets, and online at Shopee and Lazada where you can enjoy free shipping plus exciting deals including during our 11.11 sale and other exciting promos this month!