Signs MOA with BEST, Envirotech, Plastic Credit Exchange, and Republic Cement partnership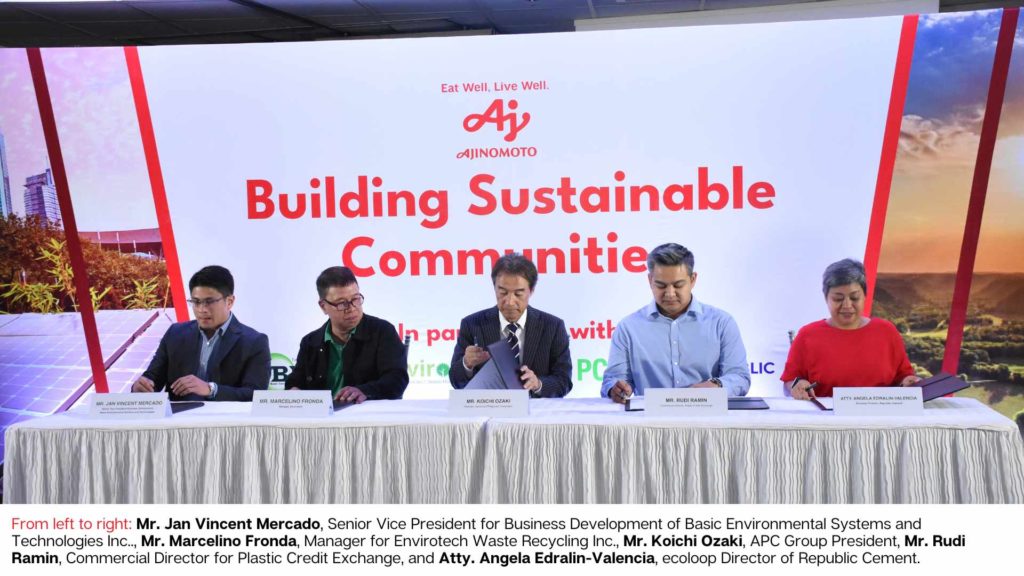 In its latest initiative to comply with the Extended Producer Responsibility Act of 2022 (EPR Law), Ajinomoto Philippines Corporation (APC) has entered new partnerships with four leading Filipino waste management organizations.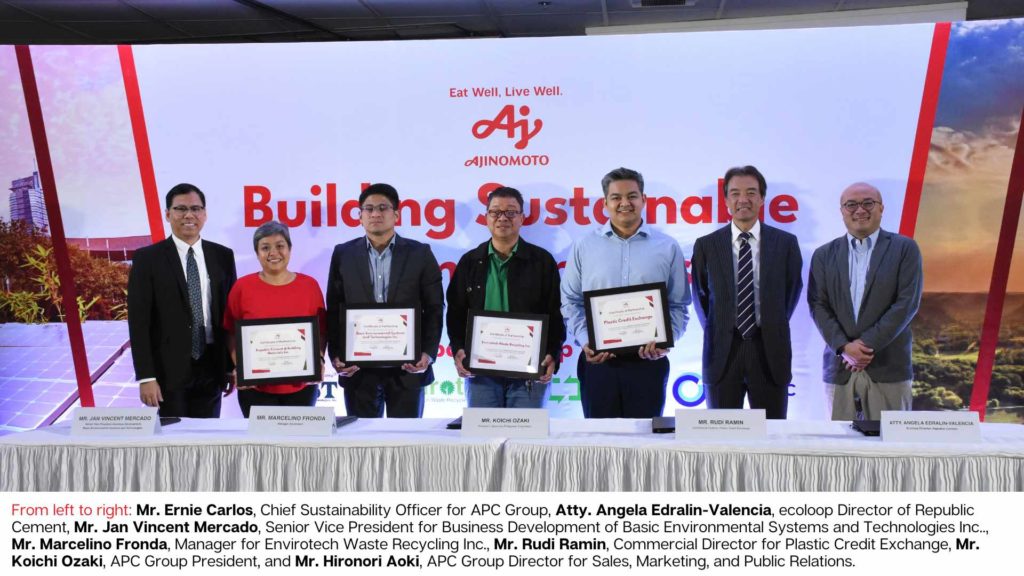 The food industry giant formalized its commitment to a more sustainable future at a Memorandum of Agreement signing ceremony with Basic Environmental Systems and Technologies (BEST), Envirotech, Plastic Credit Exchange (PCX), and Republic Cement last September 1, 2023, at APC Makati head office.
The EPR Law mandates companies to take more responsibility for the disposal and recycling of their products throughout their life cycle, which includes post-consumer waste management.
Obliged enterprises like APC must ensure that they do their part in recovering, diverting, and recycling plastic waste generated from the use of their products. These policies aim to mitigate and manage the macro effects and impact of post-consumer plastic waste on the environment.
APC saw the enactment of the EPR Law as an opportunity to supplement their current environmental stewardship projects. The company immediately sought partnerships with organizations that would not only help make their sustainability efforts more feasible, but also inspire new initiatives for a more environmentally sound future for the Philippines.
To aid with the collection of post-consumer packaging, APC tapped BEST, a waste management consulting company established in 1999. BEST founded the Trash-to-Cashback program operating in different parts of the Philippines and the MyBasurero App that encourages waste collection through an incentivized system.
Since 2010, Envirotech has built multiple materials recovery and processing facilities nationwide, with facilities that turn low-quality soft/flexible plastic waste into construction and furniture grade materials. PCX is widely known for pioneering the Plastic Pollution Reduction Standard, which allows for the management of pledges from companies and institutions to clean up their plastic footprints and be awarded Plastic Neutrality Certifications for their efforts.
Their aim is to protect the ocean by collecting and processing solid waste found in our waters, while providing livelihood opportunities to women in vulnerable communities through their Aling Tindera Program.
Completing APC's new set of collaborations is Republic Cement, who launched the Ecoloop program that encourages waste recovery and processing from collecting, segregating, and shredding of viable solid waste to be used as Refuse-Derived Fuel (RDF). During the ceremony, Mr. Ernesto Carlos, APC's Chief Sustainability Officer further assured that APC, alongside its partners who signed the Memorandum of Agreement, will put up unwavering efforts for future generations of Filipinos.
"We encourage all companies to embrace the EPR Act and take a proactive approach to managing their plastic footprint," Carlos said. "By working together, we can make a positive impact on the environment and create a more sustainable future for all."
Towards the realization of its goal of reducing environment impact by 2030, APC has been actively finding solutions to reduce plastic waste. The company has launched in the market the first-ever seasoning product in paper packaging, the AJI-NO-MOTO® Umami Seasoning 45g which is made from natural and renewable paper material that can be planted, grown, harvested, and replanted.
While the group has launched initiatives facilitated within their production processes, it has also introduced sustainability education under the #IlabasAngSustainAbilidad campaign which harnesses the reach of Ajinomoto Philippines' social media pages. With the expertise of their four new partners, the implementation of APC Group's sustainable practices and the promotion of eco-friendly lifestyles are now on a larger scale toward building sustainable communities.